Once upon a time and long ago, I used to fantasize about what life would be like if I could work from home. My floors would be immaculate, laundry would be folded, and I'd prepare healthy gourmet meals every night. Yeah…. about that…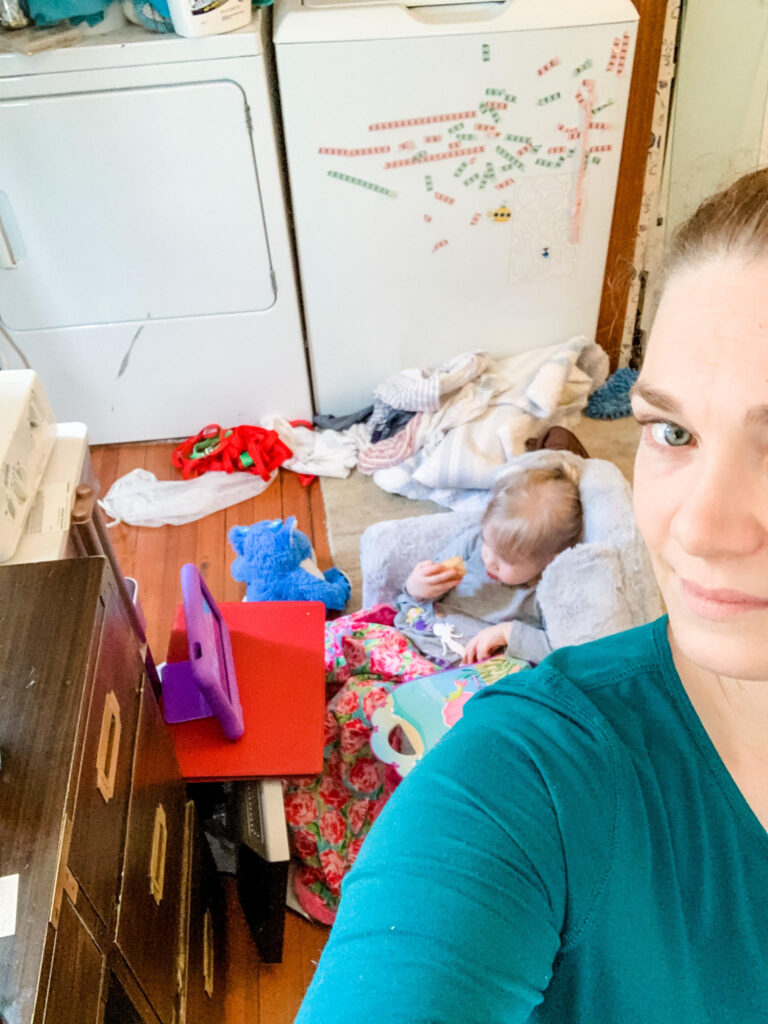 The Dinner Dilema
It has been nearly 3 months since I started working from home "temporarily". Although I have memorized the theme song to "Bubble Guppies", dinner continues to be a struggle every night. By the time dinner rolls around, I'm wiped. I barely have the energy to stop my 2 year old from drinking out of the dog's bowl, much less spend 45 minutes prepping and cooking a meal. All I want is a glass of wine, and some silence.
Enter, Spicy Honey Chicken. I swear, this is the holy grail of week night family dinner's. Under 30 minutes to make, barely any prep, and everyone in the family LOVES it.
Gather your supplies
The good news about this recipe, you probably have all of the ingredients already. The only ingredient I would recommend buying is the chile infused honey. Yes, I bought this impulsively at midnight while tipsy and reading a buzzfeed article. Judge away. However, it is just as amazing as everyone says it is. No regrets here! If you don't have this uber trendy pantry staple, I've also given an option for using regular honey and hot sauce. Here is what you will need: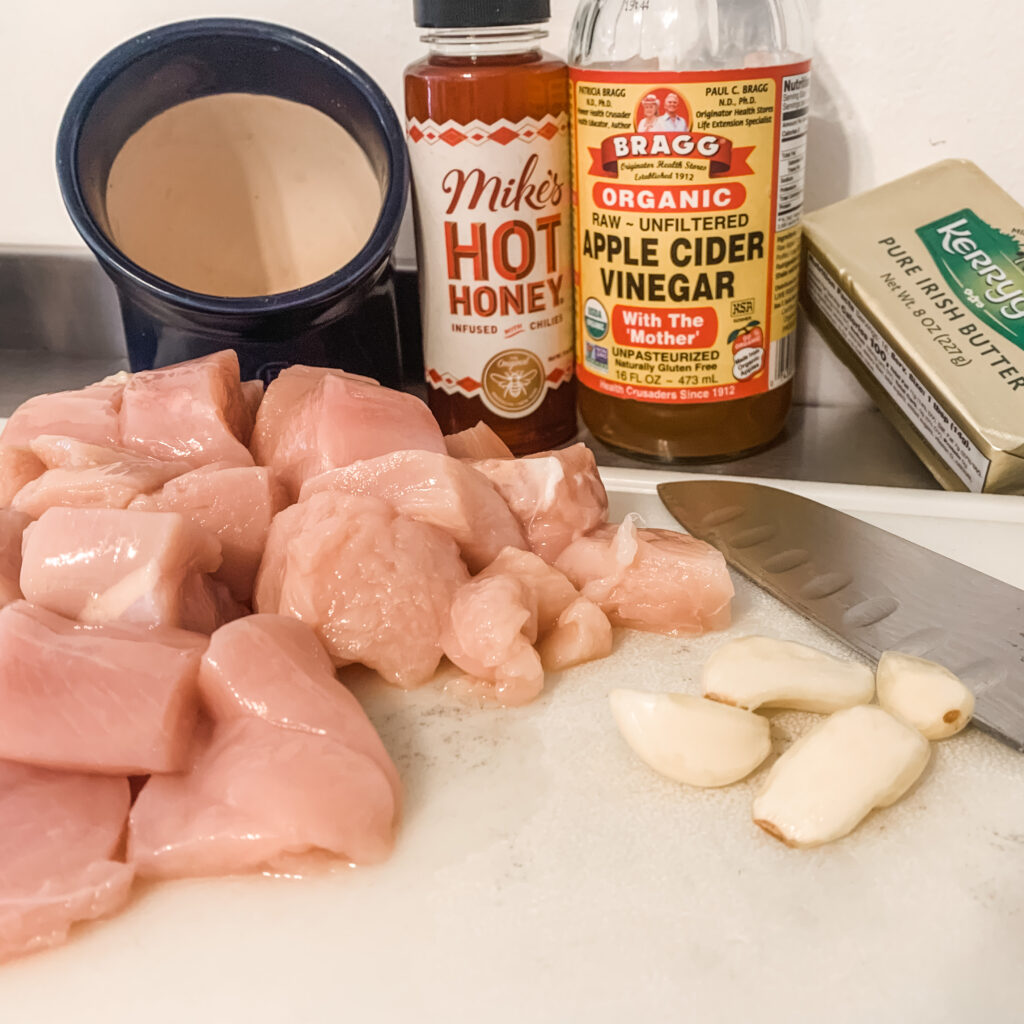 Chicken (either boneless skinless breasts, or boneless skinless thighs);
Butter (I like Kerry Gold);
Honey (chile infused, or regular + hot sauce);
Garlic;
Apple Cider Vinegar (white vinegar should work too – just not balsamic);
Salt & Pepper;
Wine (dealer's choice – use what you've got).
Pull it all together
This recipe really has zero prep. Prep is basically, cut chicken into large cubes and crush garlic. That is it. No marinating. No mixing. Easy peesy! The one "trick" is not to make your chicken cubes small. Really, big chunks are good so the chicken doesn't dry out. Other than that it is a dump and go situation.
In a large cast iron skillet, melt 1 tbsp of butter over medium-high heat. While the butter is melting, sprinkle a little salt & pepper over the chicken. Once the butter has melted fully and is starting to bubble, toss in your chicken.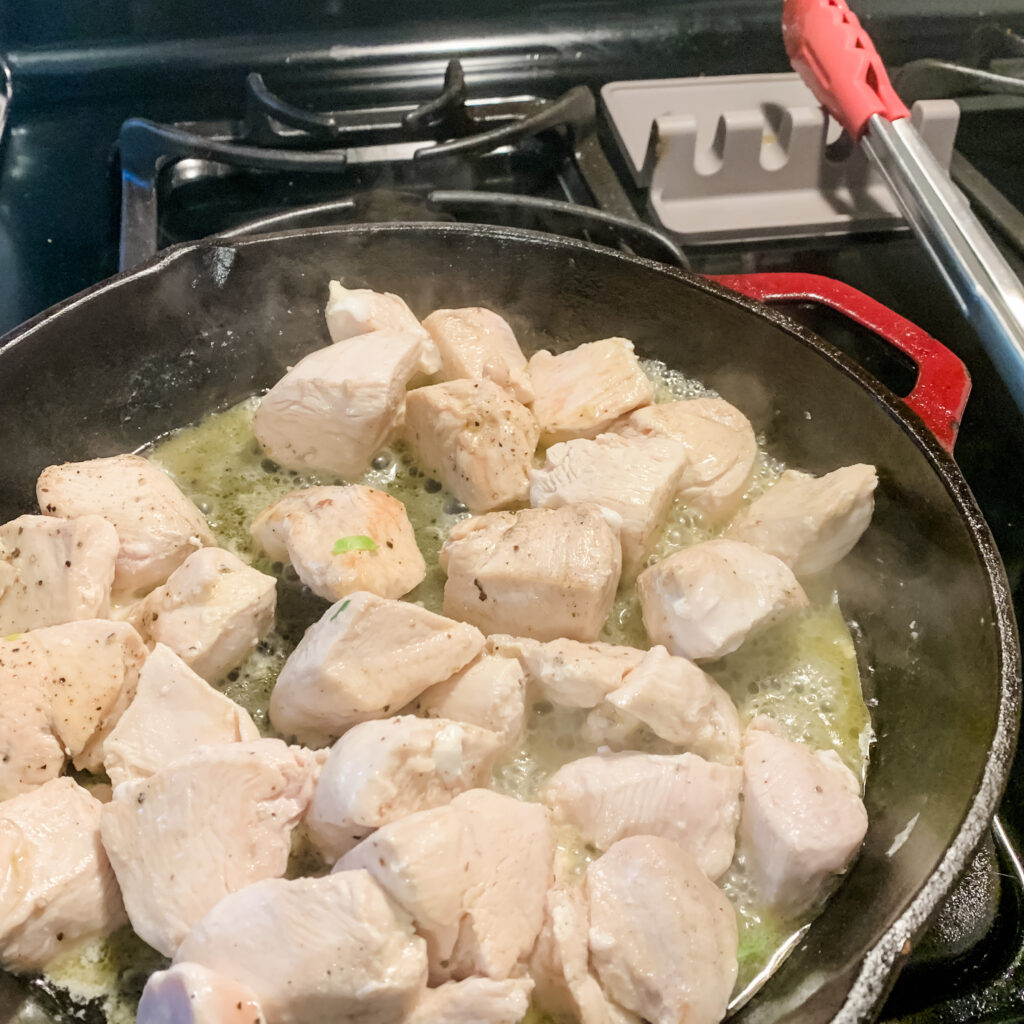 Let the chicken cook for about 3 minutes (turning the pieces so they are slightly white on all sides). Then, dump ALL the ingredients into the pan. Now, pour yourself a glass of wine, and pretend to be REALLY hard at work. Maybe wipe your brow a few times between sips of your pinot noir, and look VERY engrossed in the chicken.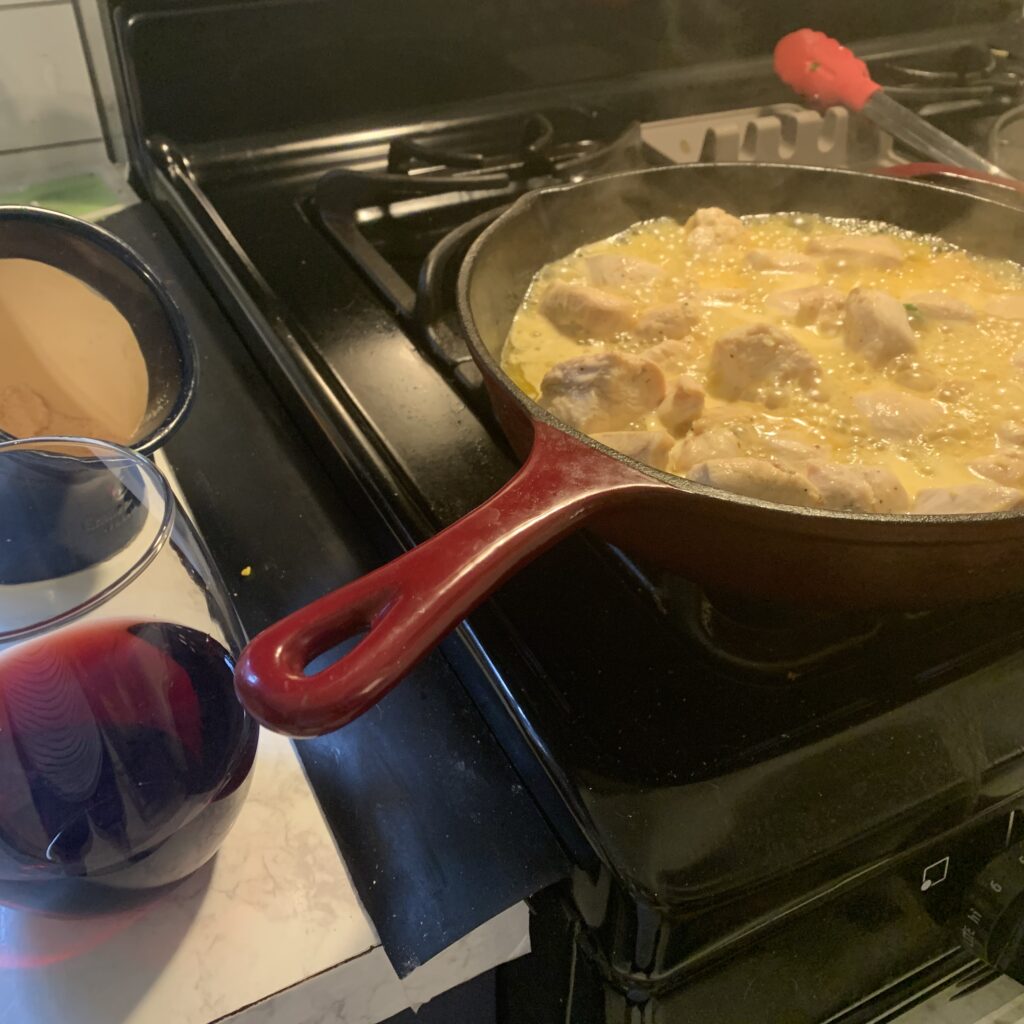 There will be a lot of liquid in the chicken, but don't worry , that will cook off. The hardest part here is waiting; but I promise it is worth it! Let the chicken cook in the reducing liquid for about 20 minutes over medium-high heat.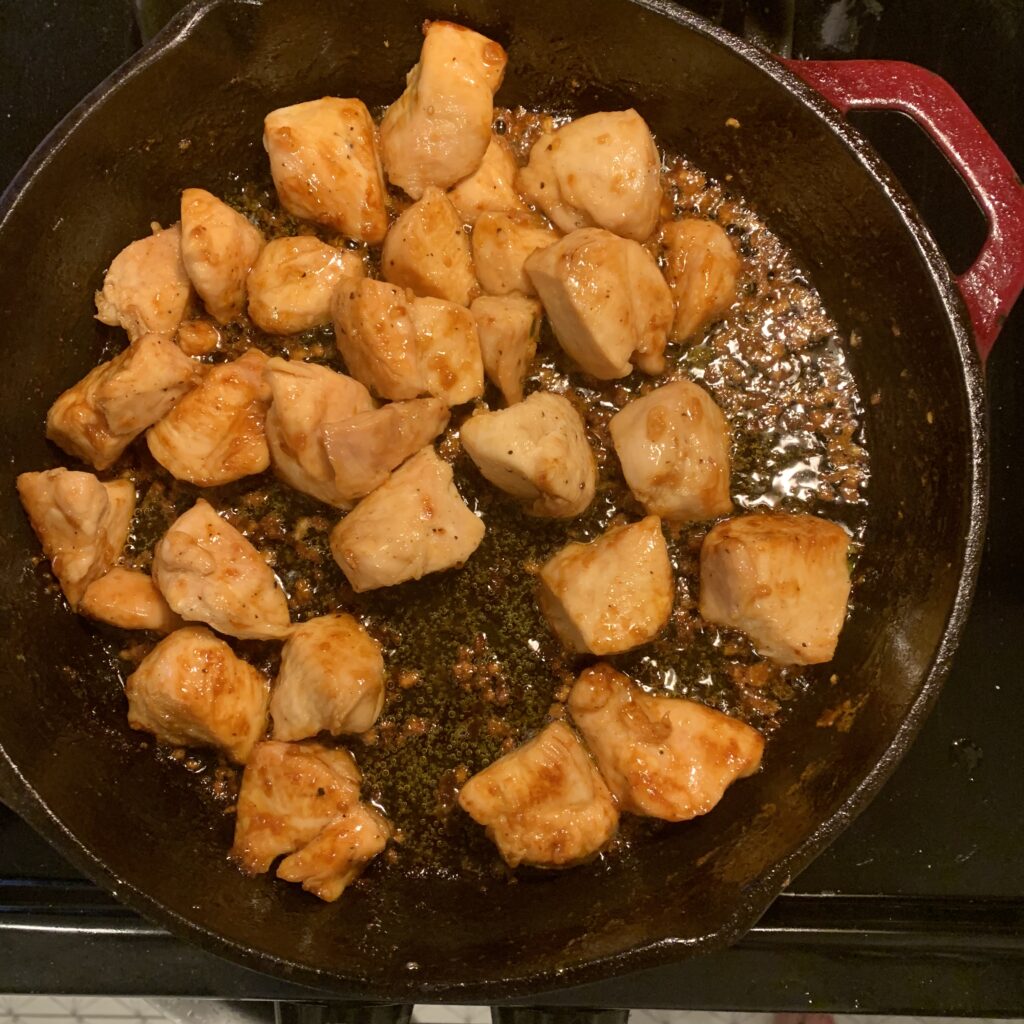 Over the 20 minutes, the liquid will start to bubble, and slowly go from a yellow color to a deeper caramel color. In spite of any temptation to pull it out earlier, wait until the liquid is completely evaporated from the pan. Toss the chicken slightly at this point to brown on all sides. Serve.
Results are in!
I served this over some shredded brussel sprouts and craisins, but i'm sure it would be delicious over rice or potatoes. I have to say, it even tasted great the next day over salad!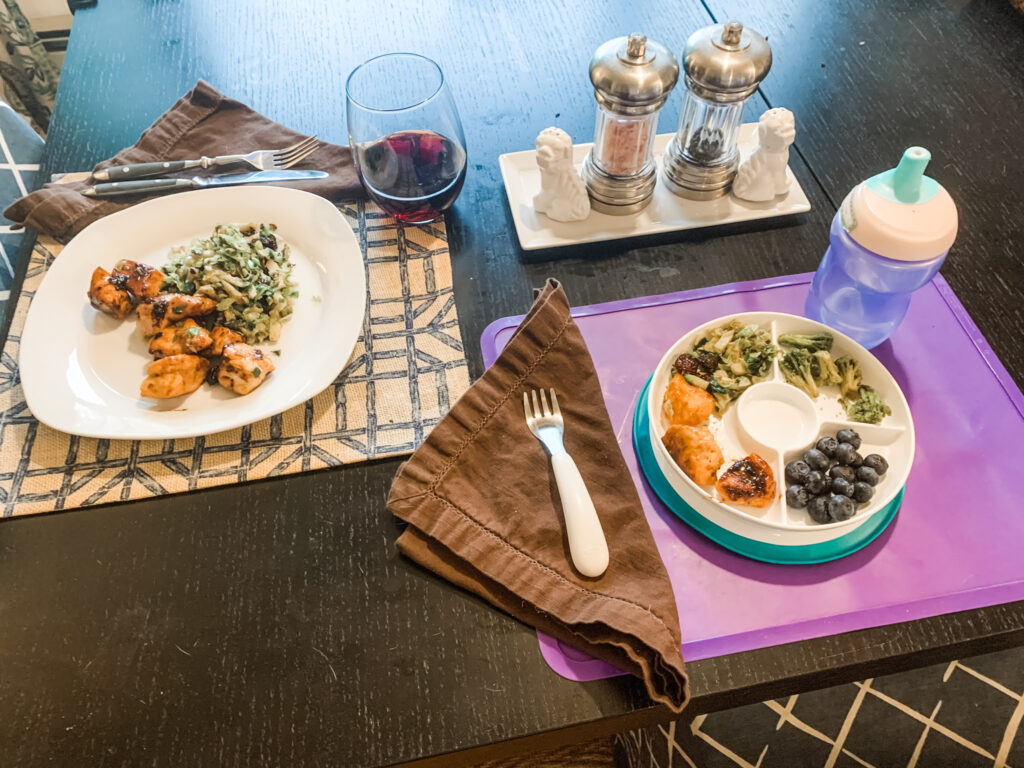 While Amelia promptly spit out her brussel sprouts (and wiped her tongue with a napkin), she devoured the chicken and asked for more. It wasn't too spicy, or too sweet, but just the right balance of both. And honestly, it was just as easy as making a box of mac'n cheese but tasted like I'd put in a lot more effort. This is definitely becoming a regular in our weeknight dinner rotation!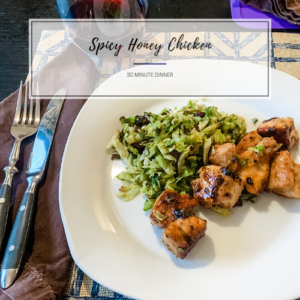 Spicy Honey Chicken
This easy recipe uses ingredients you probably already have on hand! With virtually no prep, this is the perfect meal to make in under 30 minutes for a weeknight dinner.
Ingredients
1

lb

Chicken

Can use boneless, skinless breast or thighs, whatever you have on hand!

2.5

tbsp

Mike's Hot Honey

If you don't have Mike's hot, try using regular honey+ 1 tsp of hot sauce.

4

cloves

garlic

minced

1.5

tbsp

apple cider vinegar

you can also use any white vinegar.

3

tbsp

butter

I like Kerry Gold
Instructions
Cut chicken into large chunks. Don't make too small, or they will dry out (and probably avoid using tenders). Season with salt & pepper.

Heat 1 tbsp of the butter in a cast iron skillet over medium-high heat.

When butter has melted, and starts to bubble, add the chicken in.

Toss chicken in pan after about 2 minutes, allowing all sides to be white. Then add in all of the remaining ingredients. Let cook over medium-high heat until the sauce has cooked off almost completely.

When sauce has reduced almost completely, toss chicken again so that it gets completely coated, and is a deep honey brown. Remove from heat and serve immediately.