Holiday Health Trap
The holidays seem to go hand in hand with indulgence. This is, perhaps, the most difficult time of year to stick with a healthy eating plan. For me, the hardest part isn't the temptation everywhere I look (though that isn't easy). It is dealing with the traditions of food. So many of my holiday traditions are entwined with what I eat. It just doesn't feel like the holidays without a few of my favorite treats.
I don't mind indulging a little, with a bite of peppermint bark here, and sip of eggnog there. The hardest part is dealing with the food items that I CAN'T eat, not that I choose to limit or avoid. Specifically, baked goods. As soon as the holidays roll around I start craving my aunt's molasses spice cookies, or some Russian tea cakes. Sadly, unless I wanted to spend my holiday in the emergency room, gluten and nuts will always be off the menu for me. So, I get creative. I have to, right?
One tradition I find impossible to give up, is a spicy cinnamon coffee cake on Christmas morning. I love a fluffy cake, and a crumbly and buttery topping to pair with my hot cocoa. Thankfully, I've found a great way to recreate my traditional New York Coffee Cake using no grains, nuts, or dairy. Best of all, it is Paleo compliant (though not Whole 30). I wouldn't say this is a "healthy choice", but as far as indulgence goes, you will certainly walk away with less guilt after enjoying this coffee cake.
Santa's Secret Recipe
An Unexpected Ingredient
The secret ingredient to this fluffy and spicy confection is sweet potato! The base of this cake is the same one I use in my Thanksgiving Stuffing. Japanese or white sweet potatoes bind the cake, without needing gluten or some sore of gum to give it elasticity.
The potato isn't the only ingredient to help bind the cake. I also rely on my favorite paleo flour,
. The cake gets added sweetness from maple syrup and
(replacing refined sugars).
Other than those few replacements, the rest of the cake contains fairly standard ingredients. Eggs, baking soda, oil, vanilla, salt, and a healthy dose of cinnamon.
Making the Magic Happen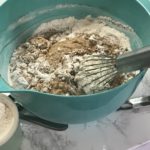 Sweet potatoes are great in baking, but you need to be careful that they don't get too gummy. Just like with mashed potatoes, an overly cooked or pureed potato can turn something fluffy into rubber cement. The best trick I've found to get my sweet potatoes creamy and fluffy, is the old fashioned stove top way. Peel and dice your potatoes, and place them in a large sauce pot. Cover with cold water, and a pinch of salt, and bring to a boil. Once the potatoes are fork tender, strain, and set aside to cool.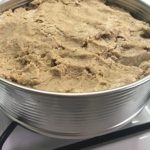 While to potatoes are cooling, Mix together all of the cake ingredients except for the flour and potatoes. Having this liquid ready will make it easier to incorporate the potatoes smoothly. If you add the flour first, you will get too dense of a batter. When the potatoes are cool, mash them using a. whisk or potato ricer. When the are as smooth at you can get them mix into the bowl of wet ingredients and spices. If the potatoes still look a bit lumpy, you can smooth it out with an immersion blender for a few seconds. Finally, whisk in the flour to create a thick batter.
Tree Topper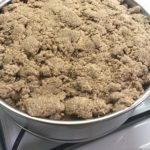 The most important part of any coffee cake is the crumble. I love this topping because it is almost exactly like a traditional crumble. The ingredients are simple, butter,
, cinnamon, salt and
. The butter should be slightly softened, but does not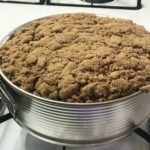 have to be room temperature. Quickly mix the ingredients together (you can use your hands for this) until you get a nice clumpy mixture. Top off the cake with the mixture, and pop it all into an one preheated to 325 for 60 minutes.
Enjoy!
Christmas Coffee Cake (Paleo, Gluten Free, Grain Free)
Ingredients
For the Cake:

2 medium white sweet potatoes, peeled and cubed
2 cups
3/4 cup maple syrup
1/2 cup olive oil
1.5 tbsp cinnamon
2 tsp vanilla extract
2 eggs
1.5 tsp baking soda
1 tsp salt

For the Topping

3/4 cup
3/4 cup
1.5 tsp cinnamon
1/2 cup butter (slightly softened)
1 tsp salt
Instructions
Preheat oven to 325 degrees
Place sweet potatoes in a medium sauce pan. Cover with cold water, and a pinch of salt. Bring to a boil. When potatoes are fork tender, remove from heat and strain water. Set aside to cool.
In a large mixing bowl, whisk together the eggs, maple syrup, olive oil, cinnamon, vanilla, salt and baking soda.
Using a whisk or potato ricer, mash the potatoes as well as you can. Slowly whisk into the liquid and spice mixture in the medium bowl. If you still see lumps, you can blend the batter quickly with an immersion blender.
Once you have a smoothed out the batter, slowly start to mix in the flour. The batter will get very thick. Pour into a greased springform pan (6" or 9" will both work).
In a smaller bowl, combing all of the ingredients for the crumble. You can use your hands to really make sure it is combined well. Top the cake with the crumble, and bake for 60 minutes.
https://www.urbancavewoman.com/recipes/breakfast/christmas-coffee-cake/