Third Trimester Dinner Rut
Last week I was too tired to make it to the grocery store. I am officially in my third trimester of pregnancy, and noticing that I'm slowing down. All of the energy I had the past few weeks has been spent. The last thing I want to do at the end of the day, is stand in the kitchen. I just want to sit on the couch, and watch Will & Grace reruns. After thawing out a duck to roast one night, and burger meat the next two nights – the freezer was pretty bare. All that was left were the lamb shoulder chops I bought when they were on sale. I had no idea how to cook this cut!
I love lamb, but the shoulder chop is a challenge for me. Lamb is already very fatty, and the shoulder chop seems to be one of the fattier cuts. It needs to be cooked low and slow to get that fat rendered, and the meat tender and flavorful. This is the perfect meat for braising. Braising always seems intimidating to me, but really it is one of the most hands-off methods of cooking. The hardest part is waiting the few hours for your dish to be done.
Cleaning Out My Pantry
There are some great recipes for braised lamb shoulder chops. I was inspired by this very simple and delicious recipe, featured on The Spruce. What I like about this recipe is that it really has very little active cooking work. While this recipe on it's own is incredible, I wanted something that would feature a few more veggies, and really amp up the flavor profile. Oh, and wouldn't require I put on real pants and leave the house (#livinginleggings).
Choosing the Veggies
In my fridge, I happened to have a fennel bulb, parsnips, onions, and mushrooms. I normally don't have such an eclectic mix of veggies sitting around, but they were leftover from a dinner I'd made over the weekend. Since braising really breaks down a lot of fiber in the ingredients, I didn't want to use any veggies that might disintegrate into mush from the protracted cooking. Luckily, these veggies were the perfect consistency, and held up wonderfully.
I can't say enough about the fennel – it was perfect. I have found fennel to be a bit overpowering in the past. The reason I had an extra bulb in the fridge, is because I actually decided to leave out half of what was called for in another recipe. In the braise though, it added a really nice and subtle richness to the dish.
Adding a Liquid
A purist would tell you that the only way to braise this dish, would be using red wine. I am a bit more open minded. When not doing a Whole30, I don't mind using a bit of wine to cook with. To be honest, when not doing a Whole30 (or pregnant), I might pour myself a glass to "stay hydrated" while cooking. These days, I haven't had much need of wine, so it is rarely in the house. Not to worry! The importance of the wine is to bring moisture and acidity to the dish – it isn't magic. I like to replace wine with a combination of cooking stock and vinegar. The flavor won't be exactly the same, but it will still be delicious.
Getting Your Braise On
Prep the Veggies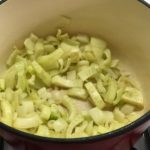 While the oven preheats to 300 degrees, I start working on the active part of this dish. It is actually very simple. First, chop the veggies (duh). Season the lamb with salt and pepper on both sides. Place a medium sized
over medium-high heat. Warm 1 tablespoon of olive oil, and then add in the onions and fennel. Cook for 3-5 minutes, and then add in the parsnips and mushrooms. Cook for another 5 minutes, until the mushrooms start to look like they have softened slightly. At this point, remove the veggies from the
with a slotted spoon, and set aside for later.
Sear the Meat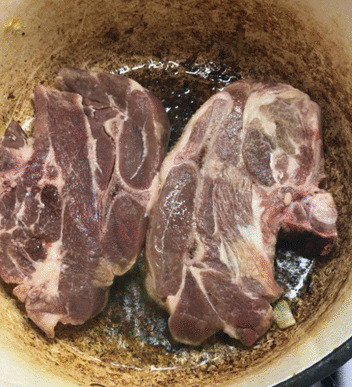 In the same pot, add another tablespoon of olive oil. Place the lamb in the pot, and sear on each side for 3-5 minutes (depending on how thick your chops are). The goal is to get a good color on the meat, but not to cook it through. If you need to, cook the lamb in several batches, so they cook in a single layer on the bottom of the dutch oven.
Ready Your Liquid
While the lamb is searing, combine your liquid, and mustard. If you are using wine, this is 1 cup of red wine, and 3 tablespoons of mustard. If you are not using wine, use 1 cup of cooking stock, 2 tablespoons of vinegar, and 3 tablespoons of mustard. Either
, or a nice balsamic will work well. The original recipe calls for dijon mustard. If you are ambitious, you can always make your own paleo mustard. If you aren't,
is a great store-bought option. Whisk this all together, and set aside.
Putting it all Together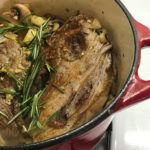 When both sides of the lamb chops have good color, add 1 tablespoon of minced garlic (or 3 chopped cloves of fresh garlic if you have it). Cook another minute. Add the vegetables back in, along with fresh herbs. I used rosemary and thyme for this, since my thyme looked like it was on it's last legs. However, just using rosemary will work as well. I used two sprigs of each, off the stems. Finally, pour the cooking liquid over the meat and veggies. I like to give everything in the pot a good stir at this point, and then cover the pot and place it in the oven. Let cook for 2 hours. Serve immediately.
Enjoy!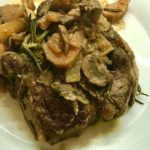 The first time I made this dish last week, I was in a rut, and tired. I honestly made this dish because I could think of nothing else to make that wouldn't require leaving my apartment. It was so delicious, I actually bought the ingredients again, and made it last night. I've mixed it up, using broth as well as wine in the liquid. I've also tried this using carrots instead of parsnips. It really is delicious in any variation.
Braising does take time, but I actually don't mind making this on a weeknight. I am lucky enough to get home by 5:30 most days, so I just spend 15 minutes prepping the dish and throw it in the oven when I get home. I can then sit back and relax (or do household chores) for the next two hours. By 7:30 my husband is normally walking in the door – and dinner is ready to go on the table. Give it a try!
Braised Lamb Shoulder Chop
Ingredients
2-4 lbs Lamb Loin Shoulder Chop (or just 2-4 chops)
1 medium yellow onion, chopped
1 fennel bulb, chopped
2 medium parsnips, peeled and chopped (can also use carrot)
12 oz sliced mushrooms (optional)
1 tbsp minced garlic

or

3 cloves fresh garlic, sliced or chopped
1 cup of red wine

or

1 cup of cooking stock plus 2 tblsp vinegar
3 tbsp
2 sprigs fresh rosemary (off stem)
2 sprigs fresh thyme (off stem)
Salt and Pepper
2 tbsp olive oil (or coconut oil, if you can tolerate)
Instructions
Preheat oven to 300 degrees. Season both sides of the lamb with salt and pepper.
In a medium dutch oven, warm one tablespoon of olive oil. Add in the onions and fennel. Let cook for 3-5 minutes, stirring occasionally, until veggies start to soften. Add in the parsnips and mushrooms to cook for another 3-5 minutes. Mushrooms should start to soften slightly, but still not be fully cooked.
Remove the veggies from the pot with a slotted spoon, and set aside. Heat remaining tablespoon of oil in the pan, and sear the lamb chops for about 3 minutes per side. Chops should get a nice color to them, but not be cooked through. Do this in batches if needed, to ensure they get a nice caramelization.
While the lamb is searing, ready your braising liquid. Combine the wine and mustard (if using wine), or the stock, vinegar and mustard. Whisk together well.
When both sides of the lamb have a nice color, add the garlic into the pot, and cook for one more minute. Add the veggies back to the pot with the fresh herbs, and give a good stir to mix everything together. Pour the liquid over the meat and veggies.
Cover and cook in the preheated oven for 2 hours. Serve immediately.
https://www.urbancavewoman.com/recipes/entrees/braised-lamb-shoulder-chop/