Baby it's Cold Outside
Finally! It is finally feeling like winter. Although I hate leaving work to find it is already pitch black outside, there is something comforting about the winter months. While Spring, Summer, and Fall are all about enjoying the outdoors, Winter is about curling up at home, and staying warm. One of my favorite things to do on a chilly winter night, is make a warm and hearty dinner. Whenever I start to crave a good "stick to your ribs" kind of dinner, I always turn to skillet shepherds pie.
One of the reasons I love this recipe is that it is so easy to pull together, and requires relatively little clean up. Almost all of the cooking is done in a
, which doubles as the serving dish. As simple and homey as a shepherds pie can be, it is also a great meal to pull together for guests.
Hearty and Healthy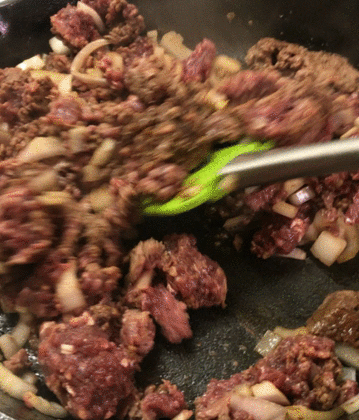 A traditional shepherds pie, while delicious and filling, may not be the healthiest option. Lamb and venison are both high in iron, B6, B12, and protein. However, venison is a much leaner meat. You can still use lamb in this recipe if you are a purist (or can't find venison), but I like the leaner meat in this. The next healthy swap I made was the potato topping. Instead of using a traditional mash, I use a cauliflower and parsnip puree. I love how light and fluffy this puree is, without being too heavy. You won't get the same brown crispness as you do with mashed potatoes, but the flavor is amazing.
The trickiest swap is the gravy. There are many different versions of the gravy for traditional shepherds pie, but my favorite has always used Worcestershire sauce and tomato paste. In order to get a similar flavor for this gravy, I used
and
. This created the perfect combination of tang for the gravy, and the mushrooms used in the meat added the much needed umami flavor. I also swapped out the tomato paste, and used some homemade tomato bacon jam. Thicken this up with some
, and you have a first class gravy for your pie. It came out better than I could have hoped!
Serving up a Hot Meal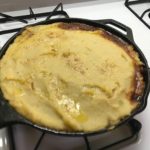 Cast iron pans aren't just great for cooking in, I think they look great for a rustic and homey serving dish. Since this recipe serves 6, I like to bring the skillet to the table, and place it on a trivet for everyone to serve themselves. Just make sure you don't burn yourself on the pan! After too many times making that mistake myself, we got a
for the cast iron handle. Best purchase under $5 ever! I may be giving these away as stocking suffers this year…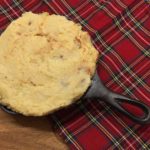 Another cute way to serve this individually, is to use
. We inherited two of these, and they are actually incredibly useful (as well as adorable). I've served shepherds pie in these individually on our
, and it looks great on the table. Just serve this with some sweet potato popovers, and watch the snow fall through the window. You will be nice and cozy inside.
Ingredients

For the filling:

1 lb ground venison
4 large carrots (chopped)
1 cup of sliced mushrooms
1 large shallot, chopped (about 3/4 cup)
4 sprigs of fresh thyme
1 tbsp
1/4 tsp
1/2 cup tomato bacon jam (can substitute 1/4 cup tomato paste)
2 tsp chopped garlic
1/2 cup bone broth
1 tbsp
1/2 tsp salt
1/2 tsp pepper

For the topping

1 head cauliflower
2 large parsnips
1 tsp salt
1 tbsp cooking fat (I like bacon fat)

Instructions

Topping

Steam the cauliflower and parsnips in your instant pot (or on stovetop) until soft. For the instant pot, this is about 5 minutes on manual pressure with a quick release.
Strain water from cauliflower and parsnips, and blend until smooth. Set while preparing pie filling.

Filling

Preheat oven to 400 degrees.
In a large cast iron skillet, melt cooking fat over medium high heat. Saute shallots for 2 minutes, until softened. Add the venison, thyme, salt and pepper to the pan, breaking the meat into small pieces with a wooden spoon. let this mixture cook until the meat is browned (about 5-8 minutes).
Since venison is a lean meat, there shouldn't be too much fat in the pan, but if you are using beef or lamb, you may need to strain off some of the fat at this point. Once that is done, add in the carrots and mushrooms, apple cider vinegar, tomato bacon jam, garlic and mustard powder. Cover with foil and let cook for 5 minutes.
Combine the cassava flour and bone broth into the meat, until well blended, and sauce is slightly thick. Remove from heat.
Top meat mixture with the cauliflower and parsnip puree. Place in the oven for 15 minutes. To get a crisp top to the parsnips, you may want to fire under the broiler for another 5.
Serve immediately.

https://www.urbancavewoman.com/recipes/entrees/skillet-shepherds-pie/