This Gift is Jamming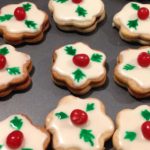 It's that time of year again! Rockefeller Center has held the ceremonial tree lighting. The 25 days of Christmas, are playing on everyone's TV, and Santa has taken up residence at Macy's. Very soon, gift exchanges will start, and invitations for holiday party's will start to arrive. Every year, I try to come up with a unique and homemade gift for family and friends. I have made small tins of homemade holiday cookies, or hand painted mugs with "mug cake" mix. This year, I am doing something a bit different. I'm giving out small jars of Tomato Bacon Jam.
Everything is Better with Bacon
I am a firm believer that
everything
is better with bacon. Even the holidays. I've fallen in love with bacon jam lately, because it is the perfect companion for any meal. It is salty, sweet and tangy, all in one! I like to have a dollop on top of my Eggs Benedict during the weekends, but it also tastes great on burgers, sandwiches, you name it. Best of all, while this is a paleo condiment, it can be enjoyed by anyone… as long as they eat bacon. In a season where everyone is getting boxes of cookies, or bottles of wine, this gift stands out not only because it is unique, but also because it is healthy(ish).
Sizzlin' in the Kitchen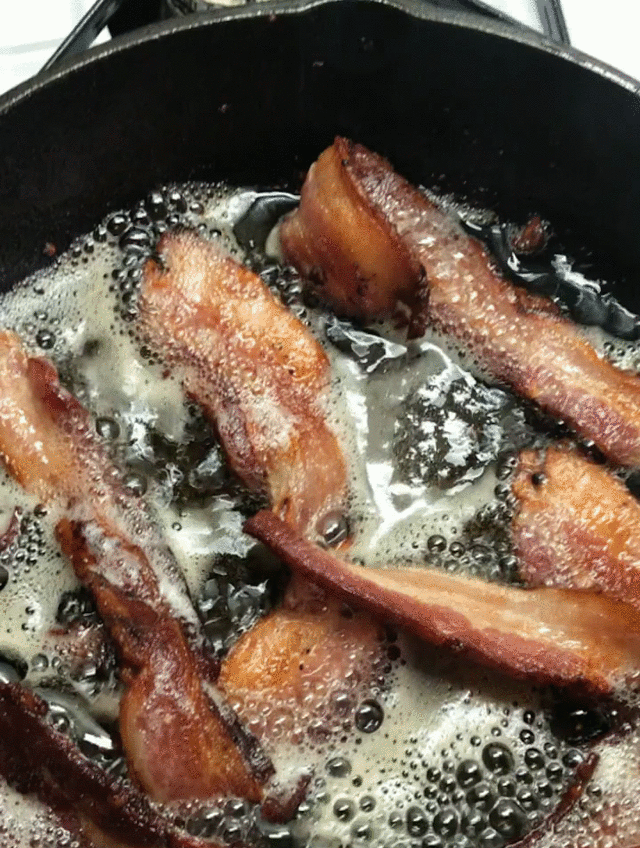 Making bacon jam is actually incredibly easy. It just takes patience. I start by frying up my bacon in a
. You will render down a lot of bacon fat cooking the bacon. I drain off some of the fat after each batch of bacon and save it. Too much bacon fat in the pan is messy (it spatters everywhere), and doesn't help the bacon cook evenly. Don't throw the fat away! It is great to cook with later. Just keep it in the fridge for a week, or the freezer for up to a month. Liquid gold.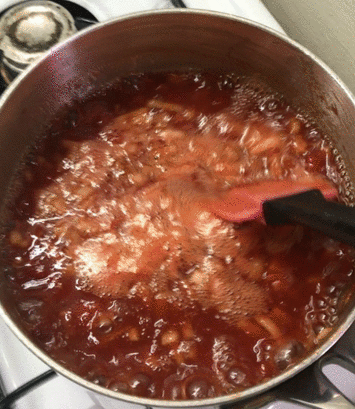 Once the bacon is done, set it aside to cool, and break into tiny pieces. Then combine the rest of the ingredients in a large saucepan, over medium-high heat. Bring the mixture to a boil, and then add in the bacon (stirring well). Let the mixture come to a boil again, and reduce the heat to medium low. Now, patience. Stir the mixture well frequently. You want to prevent having any of it burn on the bottom. I typically start this process while I know I need to be in the kitchen for a while, doing dishes, or making dinner. Every thirty seconds or minute, I just give it a good stir.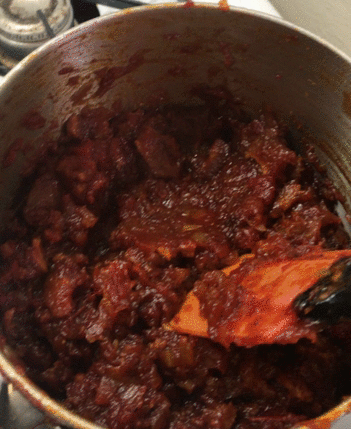 After about 45 minutes to an hour, you will notice that the bottom of the saucepan will remain clean as you stir. At this point, the bacon jam is ready! Simply spoon into mason jars, and decorate as desired for a great hostess gift. This can be kept for up to two weeks, so note an expiration date on the tag when you gift it. Trust, once they try it, there won't be an issue finishing it in the time frame.
Wrapped with Love
In gift giving, presentation is everything. I am going to be giving out my tomato bacon jam in these
. They are a bit on the pricier side, but make for excellent presentation. Plus, weck jars are nice enough that they will get used over and over again. If you want something a bit more reasonably priced, there are also more traditional
. The size on both of these may seem small, but since there is a short shelf life, that is better. Plus, it means you can give jam to more people if each person gets only a small amount! In addition to the small jar, I like to accompany any food gift with an ingredient tag or label. This is the gift label I'm using for the jam this year. I print it out on
, so it doubles as a gift tag. As an early holiday gift to you, I'm including the template for you to download. Seasons Greetings!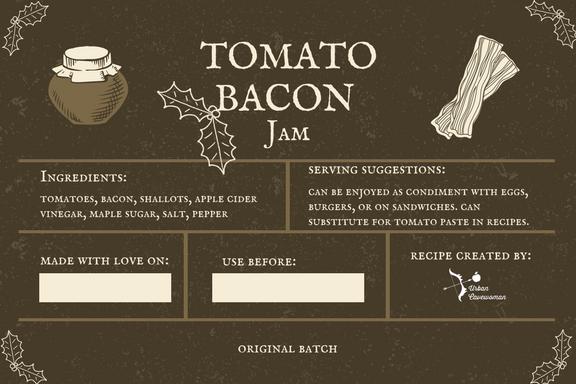 Click here to download the template for my
Tomato Bacon Jam Gift Card
.
Ingredients
12 oz thick cut, nitrate free bacon
1 cup chopped shallots
1 box of Pomi chopped tomatoes (24.46 oz)
2.5 tbsp Apple Cider Vinegar
1 cup
1.5 tsp salt
1 tsp ground pepper
Instructions
Cook the bacon until crisp in a large skillet. You will render down a lot of fat, during this process. Strain it off between batches, and keep for future use. Set bacon aside when done, and break into small pieces.
In a large saucepan over medium high heat, combine the tomatoes, shallots, apple cider vinegar, maple sugar, salt and pepper. Stir well, and let mixture come to a boil.
When tomato mixture is boiling, add in bacon and stir well. Reduce heat to medium. Let mixture stay at simmer for next 45-60 minutes. Stir regularly to make sure nothing is burning at the bottom of the sauce pan.
After 45 minutes to an hour, you should notice the mixture has thickened, and you can scrape the bottom of the saucepan clean without liquid flowing. At this point the jam is done. Remove from heat, and store in mason jars in the fridge for 2-3 weeks.
Notes
This is an amazing topping for eggs, or on a burger. It can also be used as a tomato paste replacement in some recipes.
Keep the rendered bacon fat for future use. It can be kept in the fridge for up to a week, or frozen for up to a month.
https://www.urbancavewoman.com/recipes/condiments/tomato-bacon-jam/