In our home, the star of every meal is the protein. This could be why Whole 30 and Paleo have worked so well for us. However, even your favorite proteins can get a bit old if you cook them frequently, so it is important to try and mix it up by adding in seasonal herbs, and mixing up the flavor profiles.
Recently, we hit a "lamb rut". Rack of lamb has always been one of my favorite things in the world to eat (I think it goes back to childhood, where it was one of the only meals acceptable to eat with your hands). It is also incredibly easy to cook. We will typically have rack of lamb 2-3 times a month (providing we can find it at a reasonable price). Since lamb is such a rich and gamey meat, it normally doesn't need a lot of frills or dressing up. Typically I throw on salt, pepper, fresh rosemary, a little olive oil, and call it a day. This week though, I wanted to mix it up a bit. I had some fresh basil in the fridge that needed to get used before it went bad. If lamb and mint go together, why wouldn't lamb and basil?
Dressing it Up
I've made paleo pesto before, and it has always turned out very well. Obviously, we are allergic to nuts, so I substituted in
. Hemp seeds have a great "nutty" flavor (or so I have been told) and are also loaded with other health benefits. They are loaded with Omega 3, Omega 6, vitamin E and protein. Next, I replaced the cheese with nutritional yeast. Since nutritional yeast can add a bit of a strong flavor, I recommend starting with a tablespoon or two, and moving up to the full 1/4 cup in the recipe depending on your taste.
Once I blended the hemp,
, garlic, shallots, olive oil and basil together, I set aside half of the mixture to be served with the meal. The remaining half is used in the cooking. Start with 1/2 of the pesto that you reserved for cooking, and spread it on the meatiest parts of the lamb. Then, place the lamb (fat side down) in a cool or room temperature pan, and place over a medium flame.
Cooking the Perfect Rack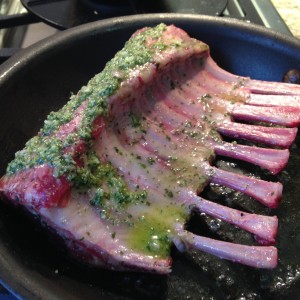 The key to cooking the perfect rack of lamb, is searing down the fat first in an oven safe pan, and then throwing it in a hot oven to finish. When you go to sear on the stove top – you MUST start with a cold or room temperature pan, and have the lamb already resting (fat side down) when you put the flame on. As the pan slowly heats up, it will melt the fat away. If you put the lamb into an already hot pan, it will sear the outside of the fat, and prevent it from reducing down.
Using tongs, make sure to press down the lamb so that the fat around the bones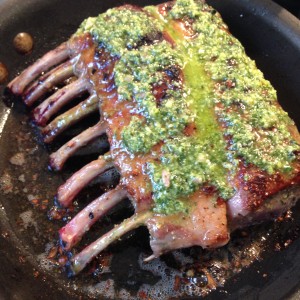 gets crisp too. Cook the lamb like this on a medium – low flame for 8-10 minutes. You will see the fat rendering in the pan as the meat cooks. Once you have crisped up the outer layer of the rack, flip it so that the fat side is now up. Pour the remaining pesto onto the lamb, and place in an oven that has been preheated to 425 degrees.
Cook the lamb in the oven for another 10-15 minutes, or until it reaches between 155-160 degrees internal temperature. We like our meat a bit towards rare, so I will pull it out at about 155 and let it sit for a minute before slicing. If you don't have a
you should seriously consider getting one. They are invaluable!
Serving Notes
Once you have sliced the lamb, it is ready to serve. You can garnish with the pesto you set aside before serving, or let your guests self serve. The pesto is pretty garlicky, so I typically let everyone add it for themselves. The best part about this meal is that if you have any remaining pesto, it will keep in your fridge for up to one week. Use it on salmon, veggies, eggs or even spaghetti squash. The possibilities are endless!
Use this as a topping or marinade on your favorite meat, fish, or veggies.
Ingredients
1 cup extra virgin olive oil
1.5 cups packed fresh basil
3-4 fresh garlic cloves (minced)
1 medium shallot, chopped
1/4 cup
1/4 cup
1 teaspoon salt
Instructions
Combine all ingredients in a good blender, and puree until smooth.
Notes
Nutritional yeast can have quite a pungent taste. If you aren't accustomed to it, start by adding 1 tablespoon. If you like, continue adding until you add in the full 1/4 cup.
https://www.urbancavewoman.com/recipes/entrees/pesto-crusted-rack-of-lamb-whole-30-week-3/