One of my favorite things to do on Sunday is to get up and have a great, relaxing breakfast. During the week, breakfast is normally rushed and perfunctory, but weekend breakfasts allow time to enjoy the food and the company. Ever since learning to poach an egg, we have been enjoying them for almost every breakfast. As wonderful as poached eggs are, I wanted to try something different. Maybe, something a little more decadent.
In my "pre-gluten-free" days, one of my favorite things for breakfast was a stack of pancakes. To be honest, I loved pancakes so much, that I would eat them for dinner sometimes. Since going gluten free, I have experimented with many different incarnations of gluten-free pancakes, and none of them quite lived up to my hopes. I've tried rice flour pancakes, GF Bisquick, Glutino… all of them. Since going paleo, it has become even more difficult to find a good, indulgent, pancake. However, I think I have finally figured out the secret to the perfect paleo pancake. Plantains.
I LOVE cooking with Plantains. They are a great substitute for anything that needs a "dough". Though they have a mild flavor, they can be used for both sweet and savory baking. There are several versions of the Plantain pancake out there, but many of them tasted too "eggy" to me, and few got a nice fluffy texture. It took some experimenting, but here is my recipe for a PERFECT paleo pancake.
Shopping Notes:
We use an electric griddle for our pancakes, and I really recommend it. The extra surface area (compared to a pan) means that we can cook more pancakes at once, and that way the first set won't be cold by the time we have done the full batch. We have a full size electric griddle, but Amazon sells a smaller sized one as well: Presto 07211 Liddle Griddle
This recipe uses Cassava Flour to help bind the batter, a flour made from Yucca root. You could substitute Tapioca flour for this if you can't find Cassava in your local grocery store (same product), or you can purchase Cassava flour on Amazon: Cassava Flour (32oz) By Choice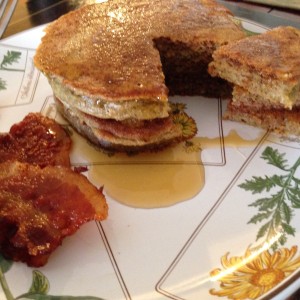 Plantain Pancakes
2015-04-12 12:40:20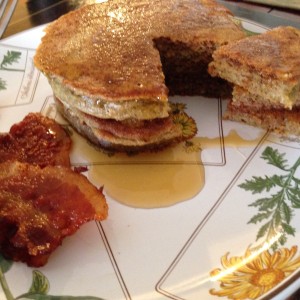 Fluffy and satisfying pancakes.
Ingredients
4 Eggs
2 Green Plantains
2 tsp Vanilla Extract
3 tbsp Palm Shortening
2 tbsp Cassava Flour
1/2 tsp baking soda
Shortening for griddle to cook with.
Instructions
Peel and cut the plantains into small pieces.
In a blender, combine all ingredients. Blend until smooth.
Grease the electric griddle with some palm shortening. Spoon out the pancake batter onto the griddle (I used a 1/4 measuring cup for this, and it was the perfect size). These pancakes won't cook like normal pancakes. You may start to see bubbles on some of them, but the way you know to flip them is that the top surface of the pancake batter starts to look very smooth. The pancakes seemed to be done in 3-4 minutes per side.
Notes
Serve hot with ghee and maple syrup. They taste great with a side of crispy bacon.
Equipment
Electric Griddle
Blender
Urban Cavewoman https://www.urbancavewoman.com/