Mine-Sweeper
… you never know when someone will blow up. Each year before a holiday approaches, we begin the menu planning process, normally with a group text to confirm all existing allergies and check to see if there are any new ones, and then put on our thinking caps. Just because we are limited with our ingredients, doesn't mean the food can't be delicious. Luckily, none of us have given up meat (yet) – so it was easy to decide to make protein the star of the dinner. Seeking inspiration, we started watching the Food Network, and happened upon an episode of Giada making a spring leg of lamb. I have never tried doing a stuffed leg of lamb, but it looked so delicious we had to give it a try. We made several changes to this dish, both for our allergies, and to make this more paleo friendly. First, we did away with the nuts (obviously). We loved the idea of a crunch, so we opted to add a crisp apple into the mix. Second, we don't like raisins, and they could be a bit sweet for our taste, so we substituted some dried cranberries. This was a great balance to the dish, adding a nice tartness. The original recipe had a panko Gremolata. Now, I have to be honest. I had NO idea what a Gremolata was until i Googled it. Basically, it is a fancy term for chopped herbs with lemon zest and parsley. This actually sounded amazing, but sadly would not work for our diets. Instead of panko I used one of my FAVORITE paleo substitutes –
pork dust
.
Pork dust
is basically chopped up organic pork rinds, and it is delicious. Whenever you substitute
pork dust
for panko, you have to remember that the
pork dust
has more fat and sodium in it, so I typically will remove or reduce whatever oil and salt is called for in the original recipe. As is typical for any dinner my husband and I prepare together, we ended up pulling an audible during preparations. My husband had grabbed some thick slab bacon from the butcher earlier that day, and was looking for an excuse to use it. This translated to him chopping some of it up and throwing it in the pan while I was preparing the stuffing. I was worried it would be a bit "too much," but it ended up adding some really good flavor. Also, when we were cooking we were worried the lamb would dry out, so we added some balsamic, wine and lemon juice to the pan before throwing it in the oven. When we took the lamb out, there was so much goodness in the pan, we had to make a gravy. Though this wasn't in the original plan, it was delicious! For a first attempt at a stuffed leg of lamb, we were VERY pleased. I'm glad we ended up buying a big ball of the kitchen twine, because we used way more than Giada did on her show. Our lamb ended up tearing during the rolling, so we tried to keep the stuffing in place with more twine. We seared the torn side first, and it helped to keep the whole lamb from coming undone. We also tied the lamb both lengthwise and width-wise, so it was very secure. Note, this recipe did use wine, so it isn't 100% paleo. If you are being very good, you can always substitute the wine with either more balsamic, or some broth and that should work. All in all, this turned out to be a very successful family dinner.The lamb was cooked perfectly, and was absolutely delicious. Everyone appeared to enjoy the dinner, and almost everyone went for seconds. The only downside? Not enough leftovers!
Shopping notes:
Interested in Pork Dust? You can find it at Amazon here:
Pork Dust – Pork Rind Breadcrumbs (Pack of 3)
For Arrowroot flour, I like to use Bob's Red Mill:
Bob's Red Mill Arrowroot Starch Flour, 16 oz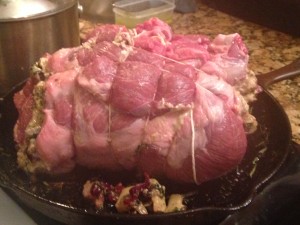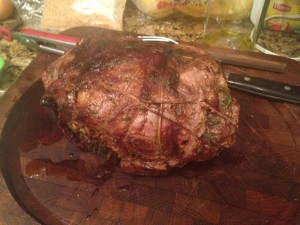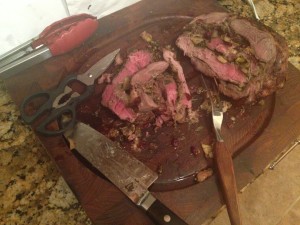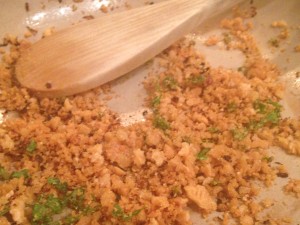 Spring Stuffed Leg of Lamb
2015-04-05 19:44:22
Serves 10
Stuffed leg of lamb, perfect for large gatherings.
For the Lamb
One 5-pound trimmed and boned leg of lamb, butterflied
One package baby spinach (about 5 oz)
1/3 cup dried cranberries
1 granny smith apple, chopped
2 sprigs fresh rosemary
2 sprigs fresh sage
6 cloves of garlic
1/2 cup whole-grain mustard
3 thick slabs hand-cut bacon, chopped (you can also use Pancetta)
1/3 dry white wine
3 Tablespoons Balsamic Vinegar
Juice from 1/2 lemon
1 1/2 Teaspoons kosher salt
1/2 teaspoon black pepper
1/4 teaspoon red pepper flakes
Olive Oil for cooking
For the Gremolata
1/3 cup pork dust
1/3 cup fresh parsley, chopped
zest of 1 lemon
For the Gravy
2 Tablespoons arrowroot flour
1/3 cup dry white wine
To prepare the lamb
Take the lamb out of the fridge about 30-45 minutes before prep time.
In a food processor, chop up the garlic, rosemary and sage. Heat up about 2 tablespoons of olive oil in a cast iron skillet over medium heat, and cook the herb and garlic mixture until fragrant. Add the chopped bacon and red pepper flakes to the pan until it starts to brown. Add in the spinach and 1/2 teaspoon of salt until spinach starts to wilt. Add in the cranberries and apple, cooking for another 3 minutes, and then remove from heat.
Preheat the oven to 350 degrees. Roll out the lamb, and pound it to an even thickness (about 1 inch). Sprinkle with the pepper and 1/2 teaspoon of salt. Spread the mustard on the lamb, distributing evenly, and then top with the spinach mixture. Starting at one end, roll the lamb up and secure with cooking twine. Our lamb ended up tearing, but we just used some extra twine and it was fine. Sprinkle the remaining salt on the outside of the lamb.
Wipe down the skillet lightly, and set over a high flame. Add about 1-2 tablespoons of oil to the pan and let it heat up. Carefully (using a good set of tongs) sear the lamb on all sides (about 3 minutes per side). Once it has been seared on all sides, pour the wine, lemon juice and vinegar over the lamb, and place in the oven to cook. The roast should take about 1 hour 15 minutes to cook fully. It will be ready when it reads 135 degrees on your thermometer. Let it rest for 15 minutes before slicing and serving.
For the Gremolata
When the lamb is finished cooking, take a small skillet and heat it over a medium flame. Add in the pork dust, lemon zest and parsley. Using a wooden spoon, stir the mixture until it starts to brown. Remove from heat and reserve the crumbs to be dusted over the lamb before serving.
For the Gravy
While the lamb is resting, take the skillet (this will be very hot from the oven still, so be careful) and put it over a medium flame. Using a whisk, add the wine to the drippings from the pan with about 2 tablespoons of arrowroot flour. You may need more or less depending on how much "drippings" you have, so do this slowly until the gravy reaches your desired thickness. For thicker gravy, add more flour, to thin it out, add more wine or use some broth or water.
Notes
Serve the lamb while still hot, sliced on a platter. Top with the Gremolata and serve gravy on the side. This will really serve about 12 people, but you want to make sure you have enough for seconds - trust me your guests will thank you.
Equipment
Cast iron skillet
Kitchen twine
Meat Thermometer
Food Processor
Adapted from Giada de Laurentiis
Urban Cavewoman https://www.urbancavewoman.com/