Artichokes are one of my favorite vegetables. Not only are they absolutely delicious, but they are packed with vitamins, minerals, and amazing health benefits. Artichokes are filled with fiber, Vitamin C, potassium, and Magnesium (which your body needs in order to absorb calcium). The health benefits of artichokes are also amazing. As already stated, the high Magnesium content helps with the absorption of calcium (very important to note ladies). Its high fiber content means that it can help with many digestive issues, and the potassium found in artichokes can help to neutralize the effects of sodium (important if you have issues with blood pressure). The curative properties of the artichoke seem to be endless; there have been claims that artichokes can help with everything from preventing cancer, to curing a hangover. Truly, the artichoke is an amazing super-food, and thankfully, it tastes really good too.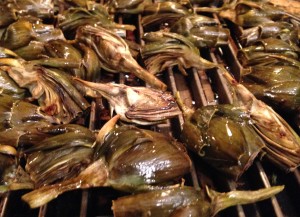 What most people don't realize, is that while the tender heart of the artichoke is the most popular part to eat, many of the nutritional benefits lie in the leaves. Unfortunately, the leaves are often difficult to get to, and too fibrous to enjoy eating. The other down-side to the artichoke is that it can be a true pain to prepare. Fully mature artichokes need to be trimmed and cleaned in a very time intensive way in order to be easily edible at the dining table. Enter the baby artichoke. Baby artichokes are a great way to get the health benefits found in the leaves, without all of the pain and hassle associated with the fully grown variety.
There are many ways to prepare the baby artichoke, but I had seen a recipe floating around the internet for a crispy oven baked version, and decided to try it. I served these with a spicy chipotle mayo with dinner, and they were a huge hit. They didn't turn out crispy like a french fry, but they were very flavorful and addictive. Give them a try… I bet you can't eat just one.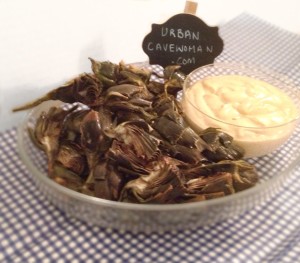 Crispy Baby Artichokes with Chipotle Mayo
2015-03-28 20:24:12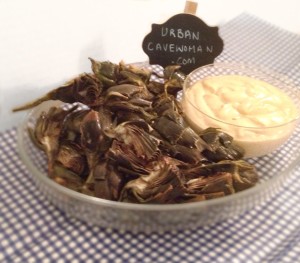 A delicious and addictive veggie side.
Crispy Artichokes
- 1 package of baby artichokes (mine had 9 in it)
- 3 tablespoons light extra virgin olive oil
- Juice from 1/2 a lemon
- Pinch of Sea Salt
Chipotle Mayo
- 1 cup light extra virgin olive oil
- Egg
- Juice from 1/2 a lemon
- 1/4 tsp Chipotle powder
- Pinch of sea salt
For the Artichokes
Preheat your oven to 400 degrees.Remove the thicker outer leaves of the baby artichoke. Don't worry if you don't remove enough, when they are cooked you can still peel off the thicker outer leaves if they are too chewy, but doing this now makes them slightly easier to consume. Use a peeler to clean up the stem, and then trip the top portion of the artichoke off and quarter, using a very good knife. Toss the artichokes with the olive oil, lemon juice and salt. Place on a baking sheet, and cook for about 25 minutes.
For the Mayo
Combine all ingredients in a wide mouth mason jar. Using immersion blender, combine all ingredients until it reaches the consistency of aioli (slightly runnier than traditional mayo).
Notes
If you don't trim enough of the outer leaves off, the artichokes will be difficult to "pop" in your mouth, but are still very enjoyable, Simply peel off the thicker outer leaves, and then dip in the mayo. Just make sure to put out an extra bowl for you (and your guests) to dispose of the leaves.
Equipment
- A good sharp knife (Shun or similar quality)
- Mason Jar
- Immersion Blender
Adapted from Artichokes adapted from Running to the Kitchen
Urban Cavewoman https://www.urbancavewoman.com/