Until this morning, I had never poached an egg. Embarrassing, but true. You see, one of my favorite brunch selections of all time is Eggs Benedict – but it seems so complicated to make! I've seen people poaching eggs with those special little poaching ramekins, and painstakingly following Julia Child's instructions to create the perfect Hollandaise Sauce. While I am in total agreement that the end product is worth it – the concept of my doing this before my coffee has set in just does not compute. So, this morning when my husband turns to me and asked (oh so innocently), "so, how do you poach an egg?" I knew that there had to be a way to recreate this Saturday morning staple with much less hassle.
Poaching an egg is actually very simple – and requires no fancy kitchen equipment other than a pot and a slotted spoon. While there are lots of fancy contraptions out there to make this process "simpler" – the old fashioned way worked just fine for us.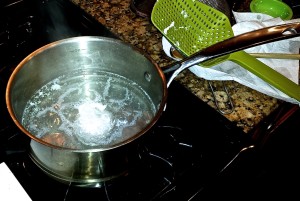 To Poach an Egg
Equipment
2- quart pot, slotted spoon, whisk
Ingredients
1 tsp sea salt
2 tsp white vinegar
Eggs (we used 5)
Directions
Fill the pot so that it has about 1 inch of water. Add the salt and vinegar, and bring to a simmer. Crack your egg into a small ramekin. Once the water has reached a simmer, use the whisk to create a "whirlpool" in the pot, and quickly drop the egg into the water. For runny eggs, wait exactly 3 minutes before removing the egg with a slotted spoon. Personally, I like my whites FIRM, so I let my eggs cook for 4 minutes.
Let the egg rest on a plate layered with paper towel, and repeat the process.
Now, the traditional Eggs Benedict is not at all Paleo. Poached eggs, toasted English Muffin, slab of Canadian Bacon, and loads of delicious Hollandaise. Yum. But not exactly what you want to whip up for a casual breakfast on Saturday, or the best thing for you. To "paleo-ify" this recipe, I replaced the English Muffin with a fresh kale salad, consisting of avocado and dried cranberries, and tossed with olive oil, lemon juice, salt, pepper and rosemary. I then replaced the Canadian Bacon with smoked salmon, and topped it all off with the poached eggs and a few dollops of Easy Paleo Hollandaise (recipe below).
The result was a delicious, filling and refreshing breakfast. I have a feeling that I will be getting a lot of practice poaching eggs going forward.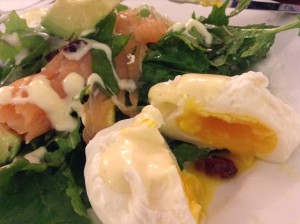 Paleo Hollandaise Sauce
2015-03-28 19:32:56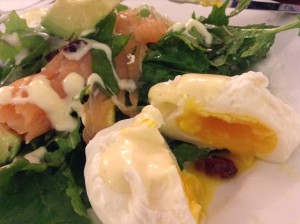 Quick and easy blend of a classic hollandaise and an aioli. The perfect pairing for a paelo friendly Eggs Benedict.
Ingredients
- 1 cup light olive oil
- 1 egg
- The Juice of 1/2 a lemon
- Pinch of Cayenne
- Pinch of salt
Instructions
In a wide mouth mason jar, combine place the olive oil, egg, lemon juice, salt and cayenne. Place Immersion Blender in the jar and blend. Slowly stir the blender while on until the mixture is thick and no more oil appears to be separated at the top.
Notes
This is more of an aioli in texture (more viscous than the traditional sauce) - but it tastes great. While you could make a traditional Hollandaise paleo, it would take a lot longer. This is the "cheaters way" of creating a great tasting sauce without being fully caffeinated for the day.
Equipment
- Immersion Blender
- Wide Mouth Mason Jar
Urban Cavewoman https://www.urbancavewoman.com/