Happy New Year! If your holiday season has been anything like mine, there have been quite a few over indulgences these past few weeks. Now that the season of excuses is over, it is time to get back on track, and on budget with my meal planning. My husband and I have had a blast cooking rich and decadent meats for various holidays; deep fried sweet potato latkes, steaks, lamb, lobster and lots of things wrapped in bacon. As we ring in 2017, I am falling back on some tried and true favorites to get back on track. One of our favorite "go-to" and "one-pan paleo dinner" recipes is a very easy lemon chicken.
This recipe is super simple – and perfect for either a quiet evening home, or when you have last minute guests you want to impress. What I love is that this recipe uses bone broth, so in addition to a delicious dinner, I'm also boosting my immune system and helping out my joints.
Try this served with some cauliflower rice, or over sweet potato noodles. Delicious, healthy, and easy!!! What could be better?
Ingredients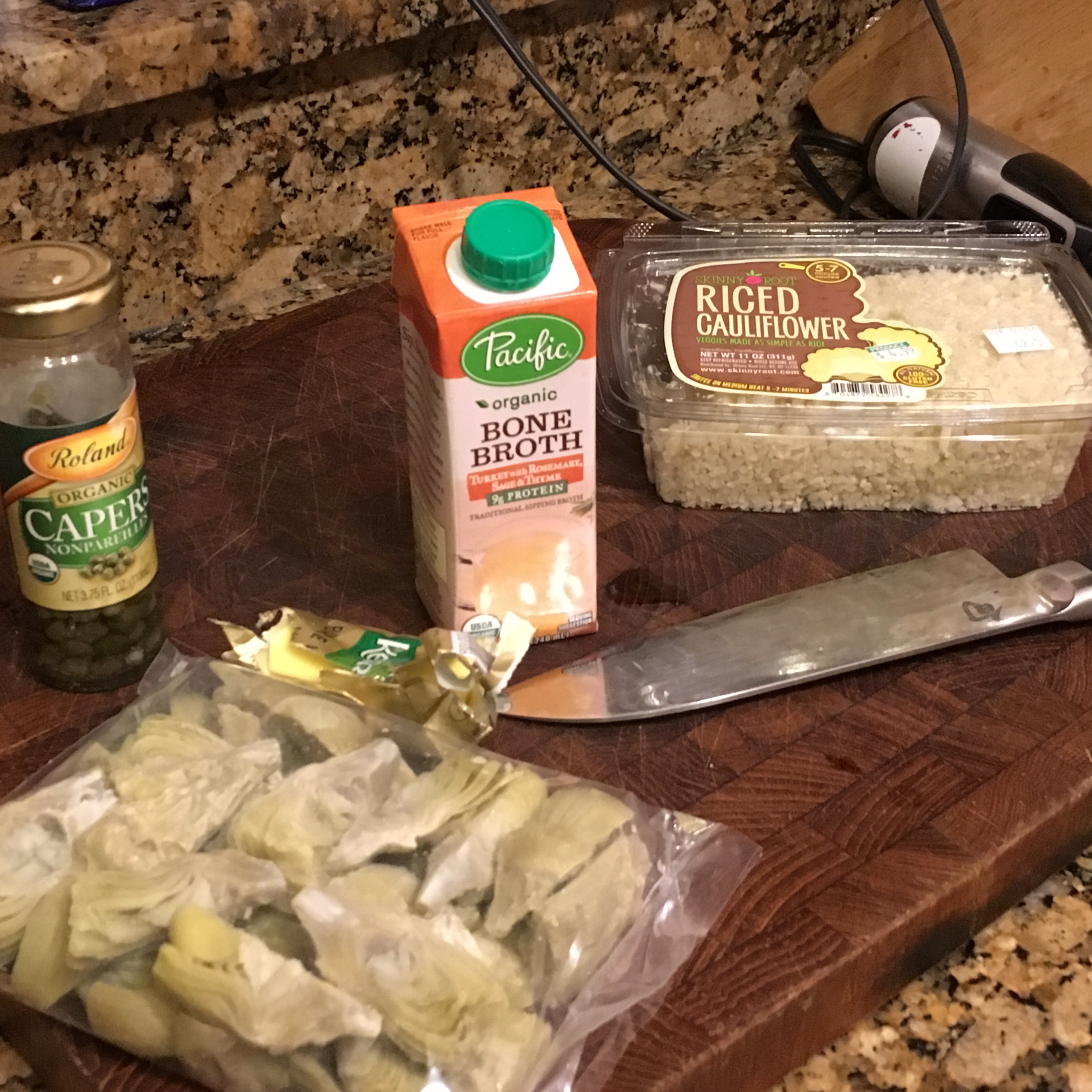 The best part of this quick and easy one pan dinner, is that virtually all of the ingredients will be available in any grocery store. Thin sliced chicken or tenders works best, but if you can only find boneless skinless breasts, that will work as well. Just make sure to cut the breasts into smaller tenders before cooking. You will likely be able to find frozen or canned artichoke hearts in most stores. I like to use the frozen artichoke hearts, as they are easier to find with no preservatives. Lemon, olive oil, paprika, and rosemary are all common ingredients easy to find (if you don't have them in your pantry already).
The most exotic ingredient here is the bone broth. While homemade broth will always be best, we are all human and probably don't have bottles of it sitting in your fridge ready to go. Luckily, there are several companies that have started selling pre-packaged bone broth. I like Pacific Natural personally, and they sell them in 8 0z containers, which is perfect for the small batch recipes I make most of the time.
Cooking Notes
The lemon flavor for this recipe comes from extracting the flavor early. Make sure to wash your lemon well, and then thinly slice it, removing obvious seeds. Drizzle some olive oil in the pan, and lay the lemon slices down in a single flat layer on the pan as it heats up. Sear the lemons on both sides so that they are browned (about 2-3 minutes per side), and then set them aside for later. What is left in your pan is pure, delicious lemon flavor. This will add great tang to the chicken as you sear it, and really enhance the broth when you deglaze the pan later. I like to make this recipe in a cast iron skillet, but the acid from the lemon can strip some of the seasoning.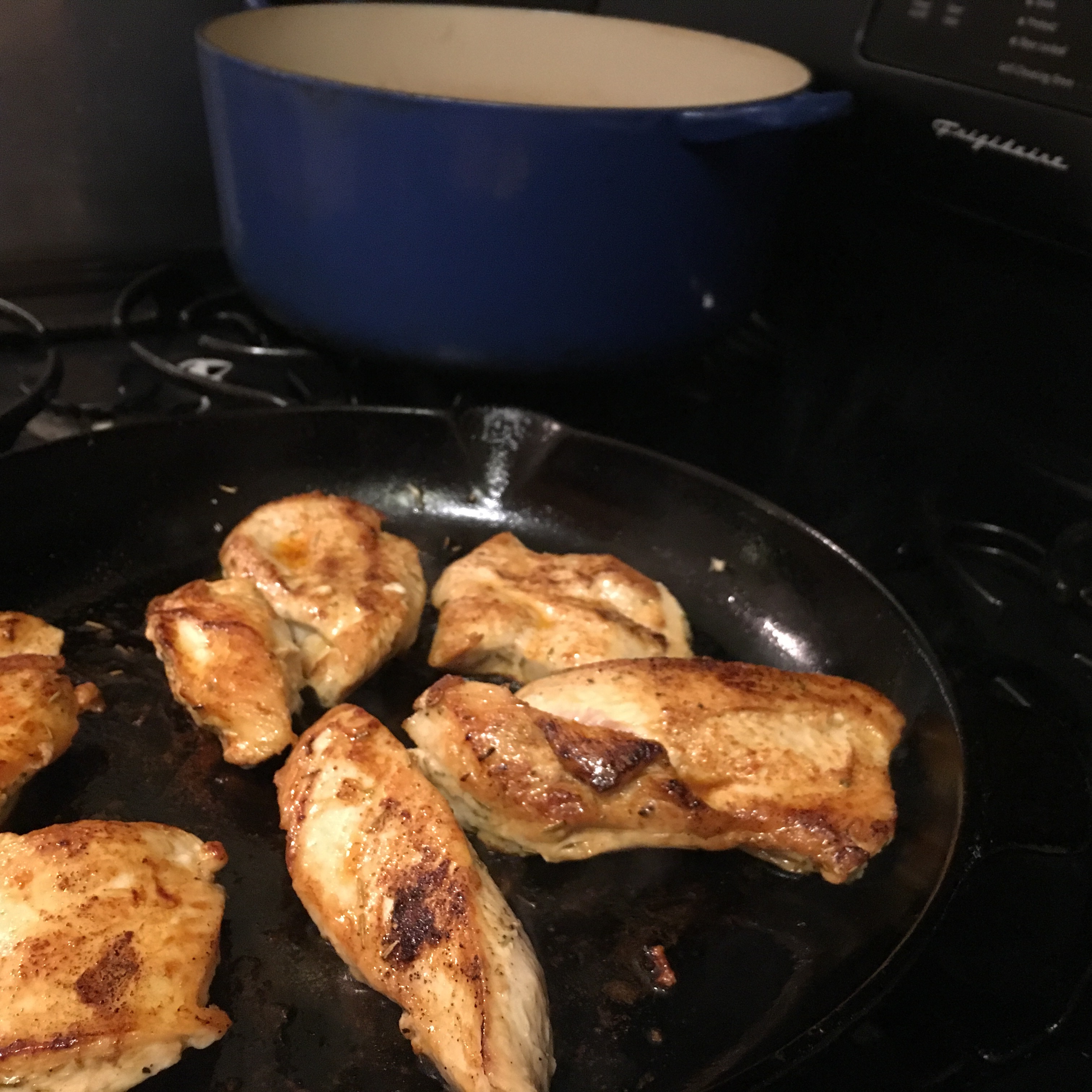 Once you have extracted the lemon flavor, start to sear your chicken in batches. I will do this over medium/ high heat, and cover the pan with tin foil to have the chicken cook through faster. You should only need about 3 minutes per side for the chicken to brown well, but that will vary depending on the chicken thickness. Set the chicken aside in a covered dish, and keep warm. Add the artichoke hearts and capers to the pan, and let them brown for 3-5 minutes.
When the artichokes start to look brown, and glazed by the pan drippings, add in the 1/2 cup of bone broth. Use a wooden spoon to scrape up all the flavorful bits from the pan as the broth simmers. Once the simmering has settled down, add back in the chicken (and all juices) and lemon slices from earlier. Turn the heat down to medium to simmer for about 2 minutes, before it is ready to serve.
Serving Notes
This recipe really goes well with anything, but I love it over a cauliflower puree or cauliflower rice. The bone broth "drippings" in the pan are delicious, so make sure you don't let it go to waste! Spoon over the finished product, or place in a gravy boat for self-serve diners. This is a sure-fire crowd pleaser, and such an easy week night dinner. It will even heat up nicely for lunch the next day!!!
One Pan Paleo Lemon Chicken with Artichokes
Ingredients
1.5 lbs boneless skinless chicken breast (tenderloins or thin cut are best)
1 package frozen, quartered artichoke hearts
1 lemon
1 tbsp capers (with brine)
2 tbsp olive oil
2 tsp paprika
1 tsp rosemary
1/2 cup chicken bone broth
Instructions
In a zip-lock bag or Tupperware, combine chicken, 1 tbsp olive oil, rosemary and paprika (this can be done up to several hours before cooking - but no longer than about 12 hours).
Wash lemon and remove sticker. Slice lemon into thin slices, discarding the end pieces. Place a skillet over medium-high heat, and drizzle 1 tbsp of olive oil in the pan. Lay lemon slices in a single layer on the pan. Brown lemon slices on both sides (about 2 minutes per side). Remove lemons, and set aside (you will use these later).
Add chicken to the skillet in batches. Brown chicken for about 3-5 minutes per side (depending on thickness of slice) or until cooked through. Set aside chicken in a clean, covered dish.
When all chicken has been cooked, add the 1 tbsp of capers (with brine) and artichoke hearts to the pan. If the artichoke hearts haven't thawed completely, don't worry. Just cover the pan with tin foil, and let them defrost in the pan. Let the artichokes brown for about 5 minutes.
Add bone broth to the pan, and use a wooden spoon to get all the flavorful bits up. As the broth starts to bubble and simmer, add the reserved chicken and juices back to the pan, with the reserved lemon slices. Let the chicken and veggies simmer for another 2 minutes.
Serve immediately over cauliflower puree, cauliflower rice, sweet potato or veggie noodles.
Notes
Because the capers tend to be very salty, I don't add salt to this recipe. However, add salt and pepper to your own personal taste.
I like to strain off the remaining "sauce" from the pan, and serve it in a gravy boat on the table for self service. However, you can also ladle it directly onto each plate. Either way, make sure you don't let all of that goodness go to waste!!! If you can't find bone broth, chicken broth will also work in this recipe.
https://www.urbancavewoman.com/recipes/entrees/one-pan-paleo-lemon-chicken-with-artichokes/