The other day we were invited to a cookout on our friends roof, and we were asked to bring a side salad. I knew we would be having lots of pretty rich meat, and most likely some other non-paleo snacks, so I wanted to come up with a salad that was tasty and light to counter all of the other temptations I knew would be there. For a while, I've been tossing around a few ideas for a twist on coleslaw, and this seemed like the perfect opportunity to give it a try.
There are two schools of thought when it comes to coleslaw: mayo dressing and a sweet vinegar dressing. Personally, I have always preferred the vinegar version of coleslaw. These types of slaw dressings are normally filled with equal parts cider vinegar to refined sugar – so not exactly a healthy alternative to the creamy mayo version. I knew there had to be a way to recreate this type of flavor, without all of the sugar. Instead of using raw white, refined sugar, I decided to try using maple syrup, and it really worked out well. To "mix it up" I threw in some fresh grated ginger, and the dressing ended up having a really full bodied taste with an Asian twist.
After nailing the dressing, I went to put together the slaw. One problem though, our local grocery only had red cabbage, but no regular. However, they had some gorgeous English Cucumbers. Deciding to live on the edge, I ended up using our spiralizer to make cucumber noodles, and threw in some diced red pepper just to give it some nice color. Though not the coleslaw I had intended, this ended up being a light, crunchy side salad with a ton of flavor. Sometimes accidents end up being some amazing discoveries – we will definitely be bringing this to a lot more cookouts this spring!
Shopping Notes:
If you are looking for a really great spiralizer, I use the Paderno model, available on Amazon here: Paderno World Cuisine A4982799 Tri-Blade Plastic Spiral Vegetable Slicer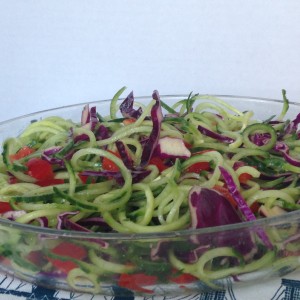 Asian Cucumber Salad
2015-04-12 13:08:41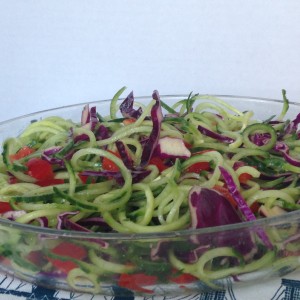 Light and tangy salad - great for cookouts!
For the Salad
1 English Cucumber (made into "noodles" with a spiralizer)
1/3 cup Purple Cabbage (shredded for coleslaw)
1/2 Red pepper (diced)
For the Dressing
1/2 tsp Fresh Grated Ginger
1/4 cup Apple Cider Vinegar
1/4 cup Maple Syrup
1 tbsp Olive Oil
Pinch of Salt
For the dressing
In a wide mouth mason jar, assemble all of the ingredients for the dressing. Using an immersion blender, blend until smooth.
For the salad
Assemble the cucumber, cabbage and peppers in a large bowl. Toss with dressing 1/2 cup of the dressing (more to taste if you prefer). Chill in the fridge for several hours before serving.
Notes
Serve the salad chilled, it can be made a day ahead of time. This salad actually starts to taste better if it has been marinating for a while.
Equipment
Spiralizer
Immersion Blender
Urban Cavewoman https://www.urbancavewoman.com/