Baby Wants Bagels!
Lately, all baby has wanted are bagels. My pre-pregnancy breakfast only consisted of a large butter coffee, and that would last me until lunch. Now, if I don't eat something substantive by 10 am, I get cranky and pukey. Pregnancy has also drained me of most energy. Instead of baking my own paleo bagels, I opted for the frozen gluten free variety. I am very pleased that since hitting week 20, my energy has mostly returned. I'm finally feeling somewhat I like myself again, and able to get back in the kitchen.
An Imperfect Circle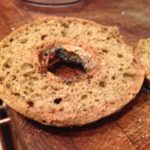 I've actually been making these bagels for a while, but never posted the recipe. The main reason I've kept it off the blog, is I didn't know if the recipe was ready. These bagels toast up great, and really are filling. What they lack is that classic bagel taste and texture. As a native New Yorker, I have a very high bar for what I would call a "bagel". Ultimately, though not a perfect replica, these really do hit the spot. There are a few things to note about this recipe, that I'm still trying to fix. The first is that they are a bit more eggy tasting than a traditional bagel. I don't mind it, but it does impact the "authenticity" of this recipe. The other thing that I am trying to figure out how to eliminate is the color. The bagels are great when first baked (see the photo). However, if you refrigerate or freeze them, they will take on a green color. The greenish tinge comes when the chlorophyll in the sunflower seeds, reacts with baking soda/ baking powder. I've tried adjusting the ratio of the baking soda in this recipe, but it didn't work as well.
Pulling it All Together
In spite of this recipe's imperfections, I still enjoy these bagels. In addition to filling my need for a toasted baked good in the morning, I love the health benefits this recipe packs. Sunflower seeds are packed with several nutrients that are great for overall health, and particularly beneficial during pregnancy. First of all, sunflower seeds are loaded with folic acid! Increasing the amount of folic acid you ingest during pregnancy is an important way of preventing several types of birth defects. In fact, my doctor always encouraged taking folic acid supplements as soon as you even consider getting pregnant. In addition to folic acid, sunflower seeds are a great source of vitamin E, phosphorous and magnesium. These are all key nutrients to promoting good cardio vascular health, especially during pregnancy. Finally, sunflower seeds contain a multitude of phytochemicals that help boost immunity. Pumpkin seed are another great addition to your diet when pregnant. One cup of pumpkin seeds contains half of your recommended iron intake for the day. They also contain vitamin B, Omega 3's and zinc – all of which are important during pregnancy. The chia seeds in these bagels are also a great source of omega 3's, as well as protein. In fact, these bagels are truly packed with protein! The
I use has 8 g of protein, 6 g carbs, and 5 g of fiber per ounce. Though baked goods are not Whole30, these are probably some of the healthiest bagel options you can find. I want to stress, that I am not a medical professional. During pregnancy I have been very careful about discussing my dietary needs with my doctors. This is just based off of my research and experience. Pregnancy is not the time to play around, so always consult with your own medical team about any dietary changes, needs, or advice. What works and has been right for me, may not be true for you.
What you Need
To make these bagels, you will need some specialty ingredients and equipment. First, the flours. I've written bout
pumpkin seed meal in baking
before, but the best producer of seed meals is Gerbs. No question. They are more expensive than other brands, but it is worth it. I also add in
, to help bind the dough together. You can use any chia seed meal for this, but Gerbs makes a great product. Finally, I use cassava flour. This helps thicken everything up. There are some great cassava flours out there, but I am a loyalist to
. They have the most consistent and high quality product, by far. The batter for these bagels is not going to runny. To get them to hold shape, I bought these
. They are non-stick, and come in a two pack – so they are perfect for this recipe. I've also used these for making my paleo donuts, and they are great. You will still need to grease the pans, but they are a really great optoin to have in your arsenal. If you don't want to buy a specialty pan, you can always make these in muffin tins.
Ingredients
Instructions
Pre-Heat the oven to 350° and grease a doughnut pan with Palm Shortening.
Sift out the Sunflower & Pumpkin seed flour into a large mixing bowl. Any of the seed's left in the strainer should be set aside and reserved for later. Mix in the chia seed flour, cassava flour, baking soda, and salt.
Mix in the egg yolks and cider vinegar - incorporating fully.
In a medium bowl, whip the egg whites until they form stiff peaks. Gently fold the egg whites into the rest of the batter.
Mix together poppy seeds, dried shallots, rock salt, and any of the leftover seeds from when you sifted the flour. This will be your everything "topping".
Place batter in a pastry bag or ziplock bag with a corner cut off, and pipe into the doughnut pan. Sprinkle the top of each bagel with the topping mixture.
Bake for 20 minutes (or until bagels are brown, and firm on top). Let cool.
Makes 12 small bagels.
Notes
You can buy everything bagel spice blends if you like. Since my husband is allergic to sesame seeds, we tend to make our own.
https://www.urbancavewoman.com/recipes/breads/paleo-bagels/