Finally Fall
Fall is finally here! For those of us in New York City, it may have arrived a month or so late, but I'm not complaining. I love the crisp fall weather, and the warm cozy sweaters that come with it. In spite of my insatiable pregnancy craving for apples, I wasn't up to apple picking this year – a major disappointment for me. However, I lucked out by having friends and co-workers who kindly shared their extras with me! I was actually shocked by how many people were happy to pass along their hard won produce, and more surprised by the reasons why. The aspect I love most about apple picking, seemed to flummox most of my friends. That is – what to do with the apples.
Using the Apples
The apples we are used to seeing in our grocery stores are very different from the ones you pick. Many of the apples in local orchards are varieties that are unfamiliar to most of us, and a good portion of them are more tart than sweet. Not only that, but there is a huge bias towards "pretty produce", and as a result some very tasty apples get discarded without a single bite! The more experienced culinary friends I have knew what they were going to cook, and picked apples accordingly. However, a fair number of people just went for the fun, and were taken aback when they bit into their beautiful orchard apple, and didn't experience the sweetness they were expecting. If you enjoy cooking, an abundance of tart apples is a blessing! Apple sauce, apple butter, and apple pie are all great ways to use your haul. As much as I do love baking, I prefer to use fruit in my savory dishes. One of my favorite fall go-to dishes is a pork chop smothered in apples, onions and thyme. This dish epitomizes fall for me, and is a great crowd pleaser for dinner parties. However, I wanted to try something a bit different this year, and really honor the apples with a truly local and seasonal dish. Duck!
Why Duck
During the first few months of my pregnancy, I couldn't even keep water down. It was not a fun time, and I ended up losing over 15 pounds. Scary when you think about the nutrients you are supposed to be supplying your growing baby! Luckily, the nausea mostly passed once I hit the second trimester. Slowly I have started to gain back some of the weight I lost. However, I want to make sure that what I'm eating has the most nutritional "bang for my buck". I still can't keep down red meat easily, so I've been researching what other proteins offer some of the same benefits in good fat, iron, and nutrients. I was shocked to learn that one of my best choices was duck! After some research, I found that duck a great source of nutrients. Although it is a very fatty protein, duck high in the "good fat" (monounsaturated fat, or MUFA), and low in the bad fat (polyunsaturated, or PUFA). In fact, duck is higher in MUFA and lower in PUFA than both chicken and turkey! Additionally, duck has zero carbs (for comparison, chicken has 15g per serving). Though not as good as red meat, duck is certainly the leader in healthy fat when it comes to poultry. The nutrient and mineral profile of duck is also far superior to chicken. A serving of duck has 25% of your RDI of iron and 24% your RDI for zinc. This is relative to the 6% and 7% found in chicken. It also has twice the amount of folate found in chicken, three times the amount of B12 and a whopping sixteen times the amount of B6!
Pulling it all together
Once I decided on the key ingredients, I needed to figure out what I wanted to make. As much as I do love duck, I am still mastering the art of rendering down all of the fat to get a nice crisp skin and not overcooking the protein. I hadn't tried using
yet with duck breast, and thought this would be a good opportunity.
Sous Vide the Duck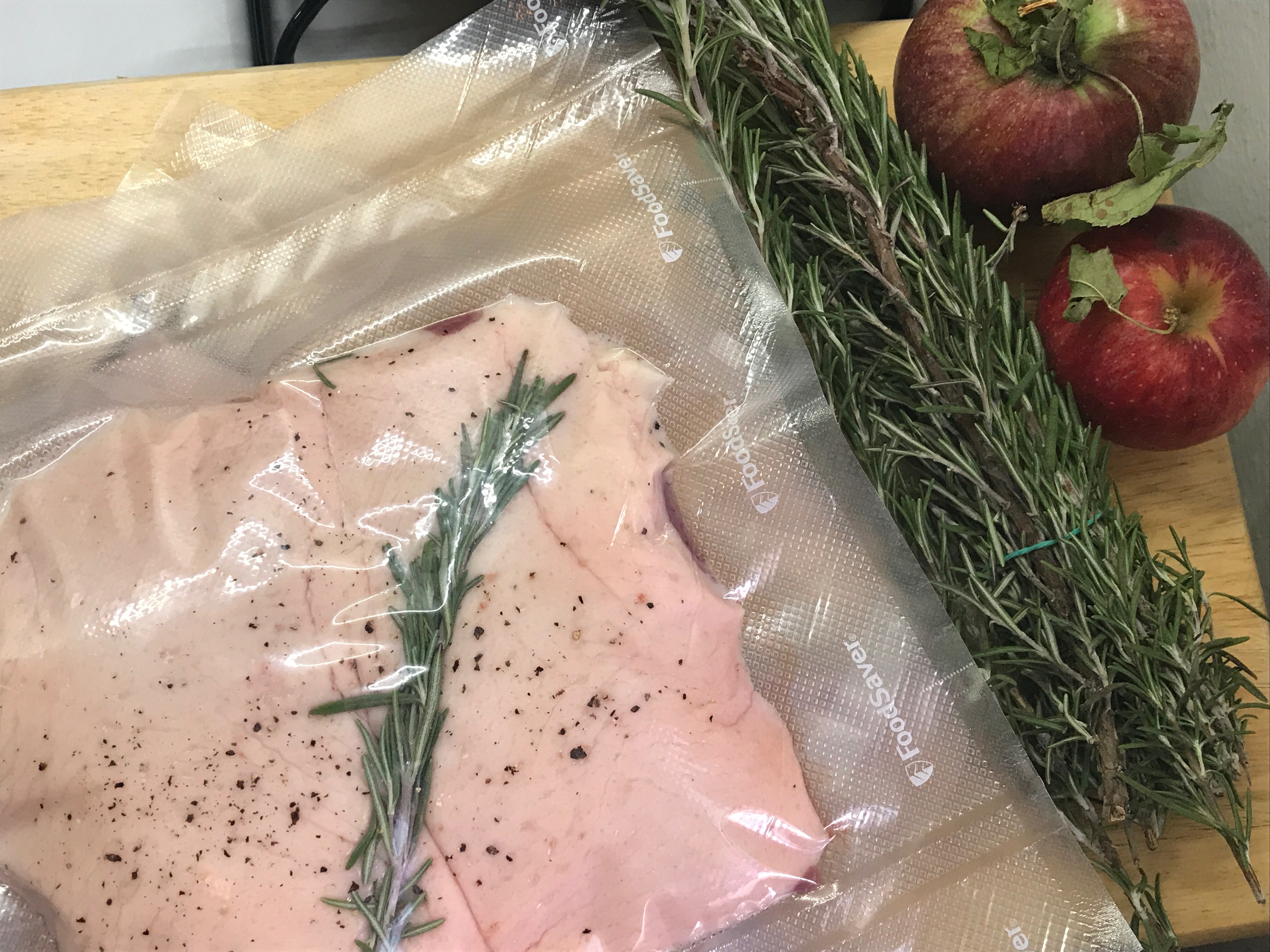 After seasoning the duck breasts with salt and pepper, I sealed them in bags with sprigs of fresh rosemary. I use a
to do this, but you can also use the water immersion technique to seal regular plastic bags (as long as they are BPA free). I set the water for 135 degrees F., and let them cook. The duck will be ready after 1 hour in the sous vide, but can stay in for up to 4 (I kept them in for 1.5 hours).
Caramelize the Apples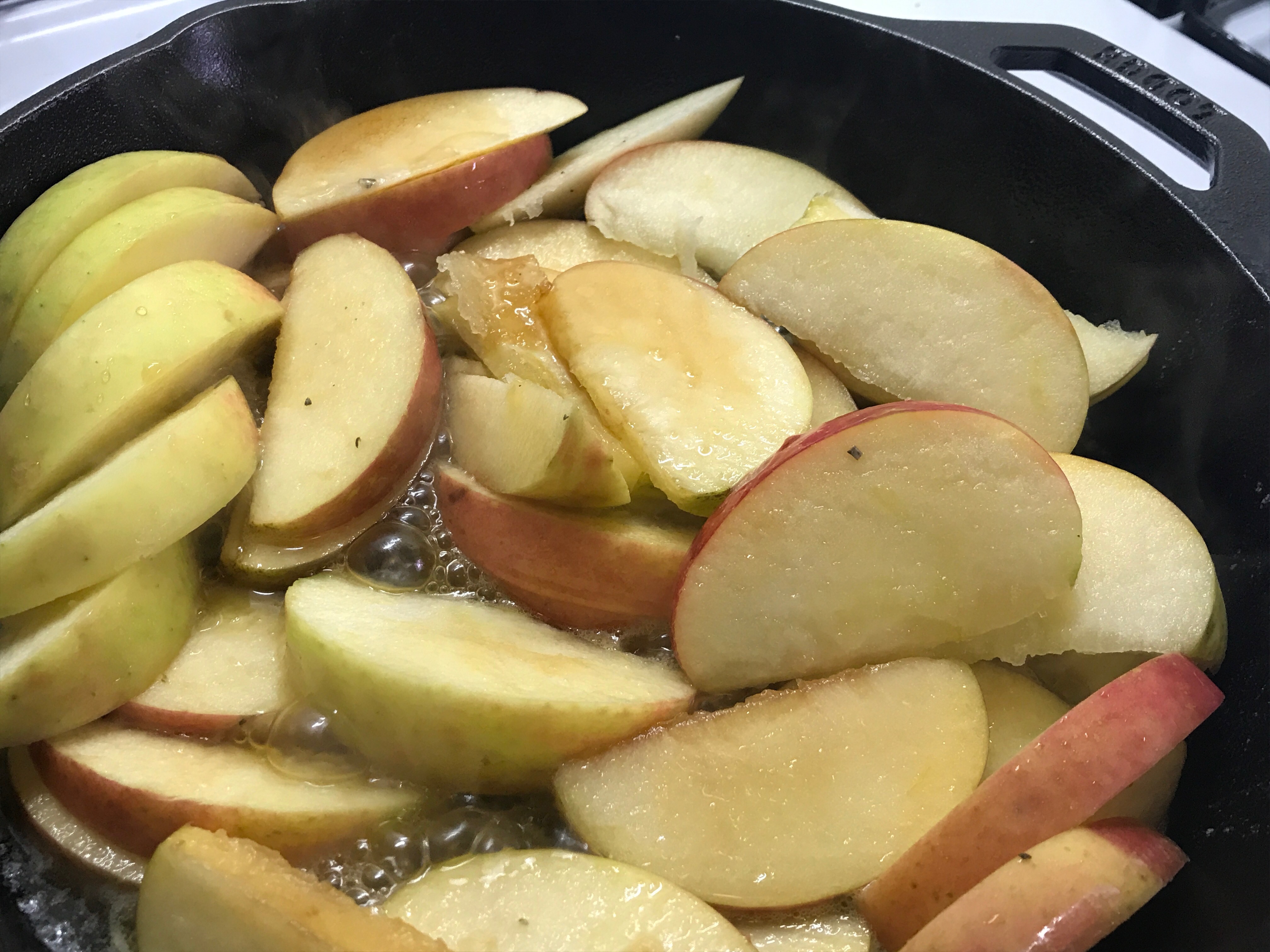 Once the duck was done, I took it out of the water bath and set it aside to cool slightly. While the duck rested (still in the bag), I started on the apples. In a large cast iron skillet over medium heat, I melted grass fed butter. Once it had melted (but wasn't sizzling), I added in the apples and maple syrup. I let the apples cook for about 5-7 minutes until they were browned, and then flipped them over with tongs. I let them sit for another 5 minutes until they were nice and caramelized. Note: it will take longer for maple syrup to caramelize the apples than sugar would, so be patient. I added in lemon juice to the pan, and gave the apples a good stir, scraping caramelized bits up from the pan before removing from the heat.
Finishing the Duck
At this point I set the apples aside into a serving dish, and replaced the pan over the burner on medium-low heat. Fat side down, I placed the duck breast into the pan. I let the duck breasts cook for 10-15 minutes, rendering down as much fat as I could and getting the skin crispy. Removing the duck from the pan, I added it to the dish with the apples. The pan was now filled with a nice amount of duck fat (or "liquid gold" as we call it in my house). I drained off all but about 2 tbsp of the fat into a freezer safe container, and set it aside to cool. Once this reached room temperature, I covered it and put it in the freezer for future use.
Finishing touches
Returning the pan to medium heat, I added in the shallots and let them cook (stirring occasionally) until they were soft, but not burned. Still stirring, I then added in about 1 sprig of rosemary (off the stem), and chicken stock. Once this started to simmer, I added in the vinegar, and some salt and pepper. I gave this about one more minute over heat (while stirring), before pouring the contents of the pan all over the duck and apples in the serving dish.
Serving suggestions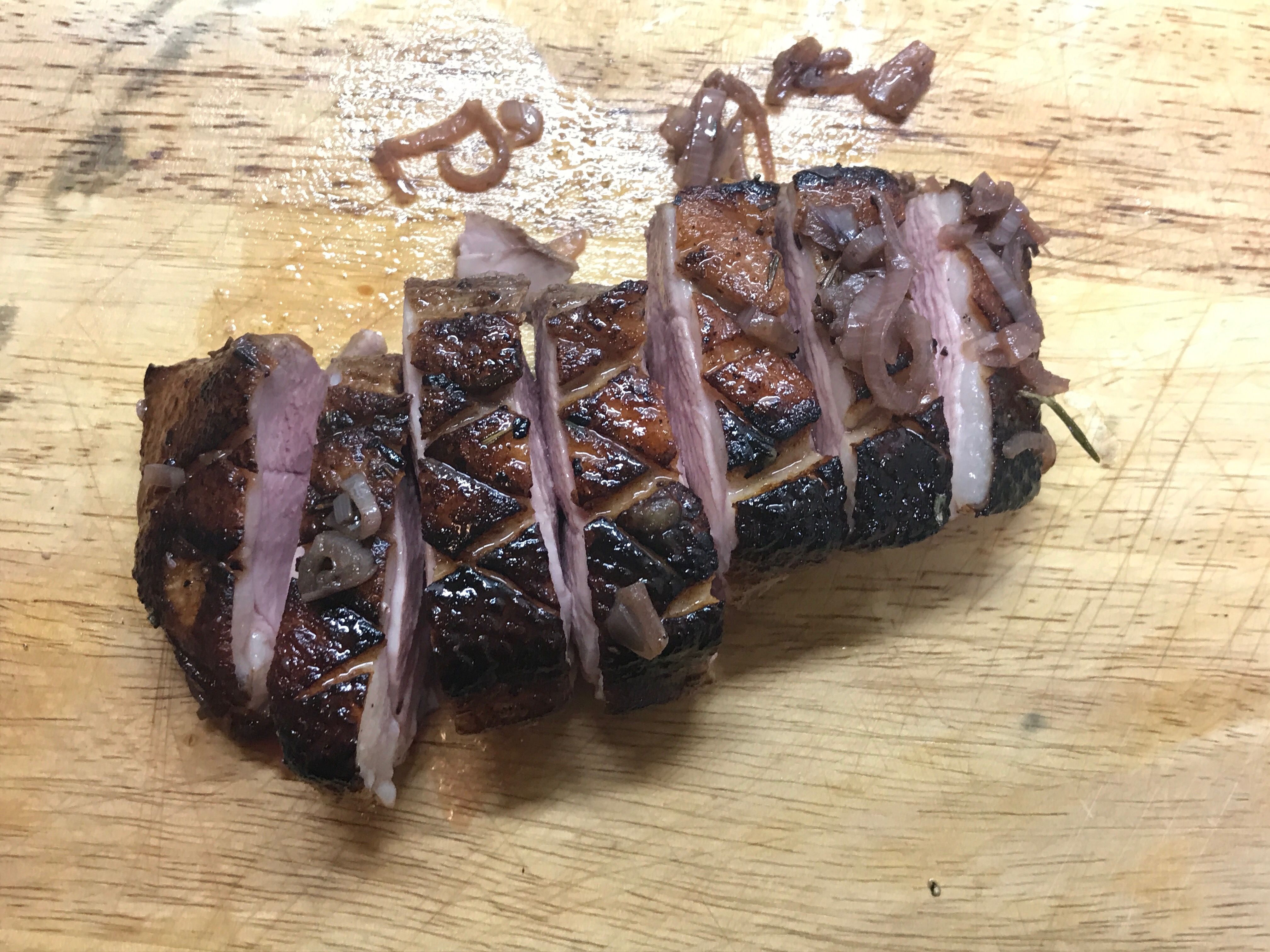 The duck breasts I got were huge, and far larger than a single serving. To make this a bit easier to serve, I actually sliced the duck ahead of time, and plated the dish for everyone. I served the duck on top of a parsnip and cauliflower puree, and topped it with the apples, shallots and sauce. For a little bit of flair, I garnished it with some fresh rosemary sprigs. This dish was a HUGE success – and also made amazing leftovers. I added duck over salad for lunch the next day, and even had the duck and apples fill an omelet for breakfast. I will be making this dish again very soon.
Sous Vide Duck Breast with Caramelized Apples and Rosemary
Ingredients
2 tablespoons unsalted butter, ghee or coconut oil
2 tablespoons maple syrup
2 cooking apples, cored and cut in 1/4-inch-thick slices
2 tablespoons lemon juice
2 Moulard duck "magret" half-breasts (each about 1 pound)
Salt and pepper, to taste
2 shallots, finely chopped
1/2 cup chicken stock or bone broth
½ teaspoon apple cider vinegar
3 sprigs fresh rosemary
Instructions
Set Sous Vide to 135 degrees R.
Salt and pepper the duck breasts, and vacuum seal in bags with 1 sprig of rosemary each. Cook for 1-4 hours.
Remove duck breasts from water bath, and set aside to cool.
In large cast iron skillet, heat the 2 tbsp butter (or fat of choice) over medium heat. When butter has melted, but is not bubbling, add in the apples. Cook the apples on each side for 5-7 minutes, or until caramelized. Stir in the lemon juice and remove from heat. Set apples aside in serving dish.
Remove the duck from the sealed bags, and scour the fat side of the breast to make hatch marks. Season again with salt and pepper.
Return the pan to the burner, and lower to medium-low heat. Place duck and the two rosemary sprigs into the pan, fat side down. Cook for 10-15 minutes, or until the fat has rendered and the skin is nice and crispy brown.
Remove the duck from the pan, and set it aside in the serving dish with the apples. Strain off all but about 2 tbsp of duck fat. Reserve and freeze the excess fat for later.
Raise the heat back up to medium, and add the shallots into the pan to cook in the remaining fat. Stir shallots occasionally.
Once shallots are softened, add in the last sprig of rosemary (off the stem), and the chicken broth. Keep stirring, and allow the broth to simmer for about 2 minutes before adding in the apple cider vinegar. Add a little salt and pepper, and remove from heat.
Pour shallot sauce over the duck and apples in the serving dish. Can be served in the one dish for self- serve, or plated individually.
Notes
I recommend serving this over a cauliflower and parsnip puree.
https://www.urbancavewoman.com/recipes/entrees/sous-vide-duck-breast-caramelized-apples/