Winter's Salad
Butternut squash soup is a staple in our home during the fall months. I love soup during the colder months in general. It can be a great, healthy lunch, that warms you up. I think of soup as winter's salad. Chock full of veggies and protein, soup is perfect for a portable lunch all week. It is also incredibly easy to make! Meal prep becomes much more manageable, if all you have to do is throw some ingredients in your instant pot and blend.
Squashing Winter Colds
While I have several "go-to" soups I like to make, the butternut squash soup is a favorite. Not only is it the perfect fall dish, but it comes loaded with nutrients vital to keeping you healthy in the colder weather. The bright orange coloring of butternut squash isn't just compatible with fall's color palate, it is also a sign of the nutrients it is packing. Butternut squash is filled with Vitamin C and beta-carotene. Both of which are essential to building up immunity. In fact, one serving of butternut squash provides you with 50% of your RDI for vitamin C!
Vitamins aren't the only defense against germs. Studies have shown that eating high fiber foods can also boost your immunity. And wouldn't you know it, butternut squash has almost 25% of your RDI of fiber in one cup. Fiber is also a major fighter against diabetes, heart disease, and helps with gut health. Eating foods high in fiber also assists with weight loss.
The Perfect Blend of Ingredients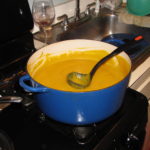 Traditionally, I always made this recipe on the stove-top, but my recent love affair with my Instant Pot has changed things. Not only does this free up my stove for any other food prep that needs to be done, but it also speeds up the cooking time significantly. If you don't have an
, don't worry. The recipe card below will have instructions for both methods.
I start by roughly chopping about 4-5 slices of nice, thick cut bacon. I throw this in the Instant Pot, with the sauté feature on. Careful not to let the bacon burn, I'll stir it about once every 30 seconds until the fat has completely rendered, and the bacon is nicely crisp. Using a slotted spoon, I remove the bacon, and set aside. Then, I add the curry powder and onions, cooking in the bacon fat until onions are translucent. Keep stirring these while they cook, making sure they don't stick to the bottom of the Instant Pot.
Once the onions are ready, I add in the chopped apples, squash, bone broth, salt and pepper. I give these all a good stir (making sure to scrape the bottom of the pot), before sealing. Using the manual setting, I set the timer for 10 minutes on high pressure. When the time is up, use the quick release method to let out the steam before opening.
Next, I use an
to puree all of the ingredients. Be careful, the liquid will be hot, and may spatter. When all of the ingredients have been blended to a silky smooth texture, stir in the apple cider. If you don't want the extra sugar, you can add in bone broth instead. The soup can be served immediately, or kept in the fridge for up to a week. Serve topped with bacon and a dollop of crème fraîche. Bon Appetite!
Butternut Squash and Apple Soup
Ingredients
4-5 slices thick cut, nitrate free bacon
3 large yellow onions (chopped)
2 tbsp curry powder
2 large butternut squash (peeled, and cubed)
4 McIntosh Apples (peeled, cored, and cubed)
2 cups chicken bone broth
2 cups apple cider (or substitute more broth)
2 tsp salt
1 tsp pepper
Instructions
Chop bacon roughly into bite-sized pieces. Set Instant Pot to sauté, and cook bacon. Stir bacon occasionally, so that it does not burn. Remove bacon with a slotted spoon when fat has rendered, and bacon is crisp. This will take about 5-8 minutes, depending on how thick your bacon is.
Add onions and curry powder to the Instant Pot, cooking in the bacon fat. Stir consistently, scraping the bottom of the pot so nothing is sticking or burning.
When onions are soft and translucent, add in the apples, butternut squash, 2 cups of bone broth, salt and pepper. Give mixture a few good stirs, making sure nothing is stuck to the bottom of the pot. Seal the Instant Pot. Manually set to cook for 10 minutes at high pressure. Then timer goes off, use rapid release to let steam out.
Use an immersion blender to carefully blend the mixture to a silky smooth consistency. Be very careful, the mixture is very hot and may splatter. Stir in the 2 cups of cider or bone broth. Soup should still be thick, but adjust liquid amount to your preference for consistency.
Serve topped with the reserved bacon crumbles. You may also top with a dollop of crème fraîche for holidays, if you can tolerate dairy.
Notes
For Stove-top cooking: Follow instructions, but instead of Instant Pot, all steps should be done in a dutch oven over medium-low heat. Instead of sealing Instant Pot, cover dutch oven, and let simmer for 40 minutes. Follow the rest of the directions as written.
Soup can be served immediately, or refrigerated for up to one week.
https://www.urbancavewoman.com/recipes/soup/butternut-squash-apple-soup/