Turkey Traditions
I can't believe how quickly November is flying by, and that Thanksgiving is just over a week away! Thanksgiving is my husbands favorite holiday, so we take it very seriously in our home. The first year my husband and I were together, we didn't know how to blend both of our family traditions. So, in an epically stupid move, we tried to do it all. We started out with a late lunch with my family, before moving on to his home. After another indulgent dinner there, we drove out to my grandparents for leftover sandwiches. At the end of the day we could barely move – and swore off food forever. As insane as it was, I'm really glad we made that mistake. This was our first major holiday as a couple. We both had our own special traditions, and wanted to share them with each other. The problem was, they were our individual traditions, not our traditions as a couple. After that day, we realized that we couldn't do it all, and this was an opportunity to create a tradition that meant a lot to both of us. Compromise! It is what makes marriage work after all. We were able to look back on the day's events, and pick out the things that mattered most to us.
Adapting
After the first year, we really solidified what was important for Thanksgiving. The menu. In fact, our first Thanksgiving "menu" is laminated and hanging on our fridge still. It represents the perfect combination of where we both have come from, and what we have done together. Creating this new custom for the holidays was relatively easy, and actually enjoyable! We found we didn't have to make too much change in order to both feel included. Then, we discovered paleo. The first Thanksgiving after we were married, was also our first paleo holiday. As the holiday approached, we started discussing what we were going to do. Neither of us wanted to sacrifice traditions, but we also wanted to be healthy. "Cheating" for one day may not be a big deal, but we just felt better if we stuck to our diet. Was one day of traditions worth the headaches, stomach issues, and bad sleep? Ultimately, we decided it was time again to adapt our traditions. We wouldn't deprive ourselves of the things that we enjoyed, but we would do our best to make the choices as healthy as possible.
Small Changes
This may be the only time in life where I say we are "lucky" to have so many food allergies in our family. As it is, we already have to eliminate peanuts and nuts from all holiday gatherings. I am a celiac, so we have always had a low gluten menu, and my husband's brother has a severe dairy allergy. As a result, we found that many of our traditional dishes didn't require too much adapting.
Appetizers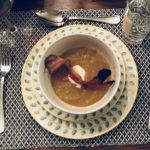 Growing up, my family didn't start the meal off with soup, but it is something my husband and I added to our tradition. Early on in our relationship, I made my husband
butternut squash and apple soup
– and it was a winner. I serve this soup topped with bacon, and garnished with a bit of crème fraîche. Other than the optional garnish, this soup is completely dairy free. It can even be Whole 30 compliant, if you sub out the apple cider for additional bone broth. Regardless of how you choose to make it, this soup is a stunner.
Side Dishes
Let's not lie, the best part of Thanksgiving is the sides! The first holiday dinner we hosted, we may have gone a bit overboard with the sides. We had mashed potatoes, sweet potato brulee, hot rolls, green bean casserole, roasted carrots, two types of stuffing, two types of gravy and two types of cranberry sauce. We have since learned to trim things down. Our current holiday menu is much more achievable.
Mashed Potatoes Swap
For 364 days a year, I am perfectly content swapping out white potatoes for sweet potatoes, yucca or parsnip. Thanksgiving is the one day I just can't do it. However, I did find a recipe that combines parsnips and potatoes in a perfect balance. This is the one recipe we have that still uses dairy, but it is a much healthier version than the mashed potatoes we used to make. These
mashed potatoes with parsnip and horseradish
are so silky and delicious, you may want to eat them on their own. The one tweak I made to this recipe was to change the ratio of potato and parsnip. Instead of using 2 lb potato and 3/4 lb parsnip, I do a straight 2:1 ratio. It didn't change the texture at all, but made me feel better about having potatoes.
Healthier Sweet potato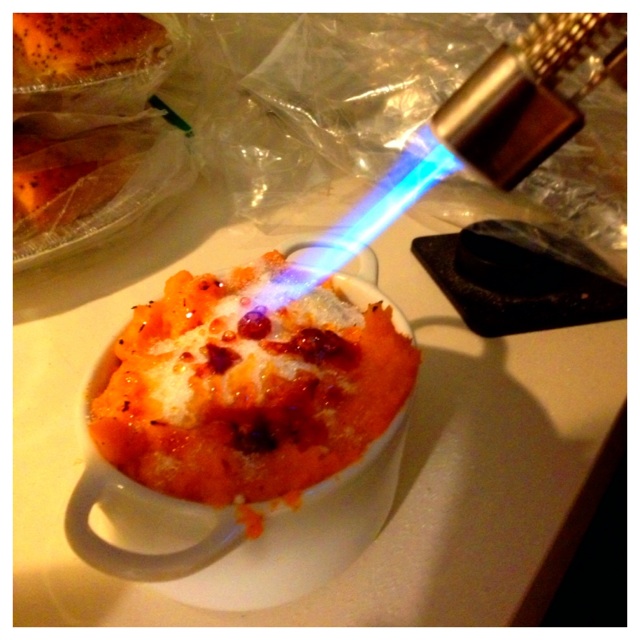 Every year my mom would make a baked casserole dish of sticky sweet yams topped in marshmallows. I would then "discretely" serve myself a healthy portion of the marshmallow topping, and leave a naked plot of sweet potatoes behind in the dish. To be honest, I would have been completely fine with eliminating this side dish altogether, but I have faced serious objection over the years to hosting a Thanksgiving dinner without some orange colored mash. After some experimenting, we came up with a recipe that has been a huge hit. Instead of the chunky candied yams, I serve a silky smooth cinnamon sweet potato mash. To get that sweet crunch from the marshmallows, I brûlée
maple sugar
. I serve these in individual ramekins (just to be fancy), but they can be made in a larger serving dish as well. Trust me, this swap is a healthier and more delicious alternative to candied yams. Check out my recipe for
Sweet Potato Brûlée
.
Something Green
Green bean casserole is actually one of my favorite things. However, we really couldn't find a way to make it that healthy. Additionally, as yummy as it was, we realized we actually love simple vegetables on their own! We didn't need to dress them up in cream and fried onions to enjoy them. Now, we do a simple veggie side each year. It depends on what we see in the market. One year we did roasted root veggies, another year, broiled asparagus. This is always the easiest side, and rarely ends up with leftovers. Salt, pepper, olive oil and a vegetable of your choice, you can't go wrong.
Bread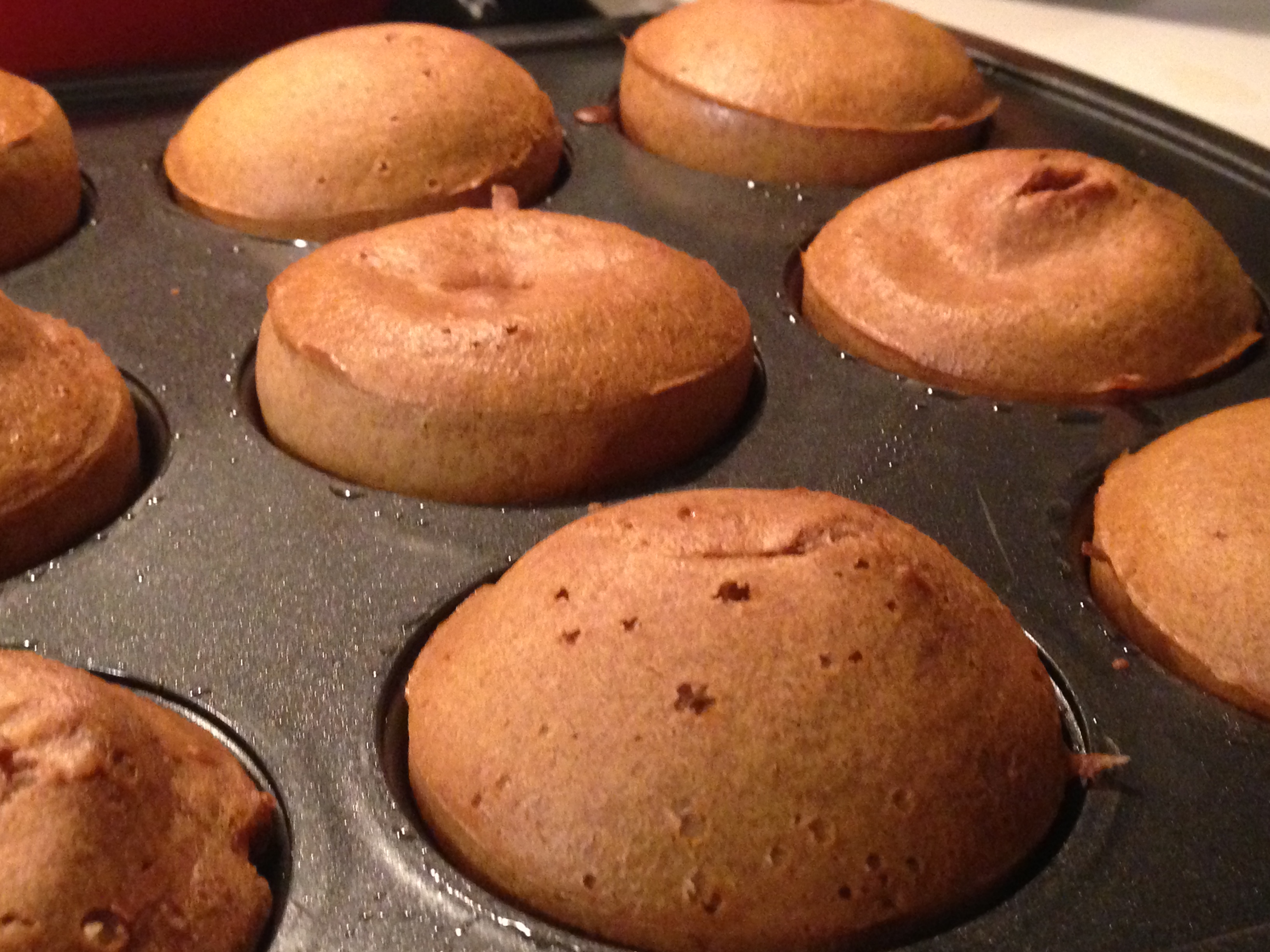 I was diagnosed with celiac's when I was 24 years old, but even before that, we didn't have a lot of bread at home. My mother has a severe wheat allergy, so bread was rarely a feature for meals. However, my husband grew up with warmed bakery rolls as a staple on the Thanksgiving table. To satisfy his carb craving, I make a few batches of my paleo sweet potato popovers. This come out warm and eggy, like a traditional popover, but are made with mashed sweet potato and
. I use fresh sage and pumpkin pie spice to add a seasonal flavor to these. My husband loves these popovers so much, we have them all year long! Recipe
will be posted this week
. I will also be posting a variation for a
sweet potato roll
, that is much more like a traditional bread roll, and less eggy than the popovers.
Stuffing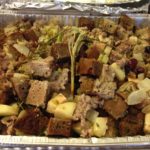 Though we call it "stuffing" in our home, we don't actually cook it in the turkey. Personally, I like baking the stuffing on it's own to get it nice and crunchy on top. By making the stuffing a separate dish, we also are able to have a few different types of stuffing, allowing for different food allergies. Over the years, I've experimented with a few types of gluten free stuffing. My favorite flavor combination is to do a sausage and granny smith apple stuffing. I use sweet Italian sausage, tart granny smith apples, dried cranberries and flavor it with fresh sage, thyme and rosemary. Once I toss this all together with my bread of choice, I soak it in herb infused chicken broth and egg, and bake. I love the smell of the fresh herbs and the spiciness of the sausage. My bread choice does vary every year. One year I made this using polenta squares roasted in duck fat. Another year I did a gluten-free sage cornbread. For a paleo friendly version, check out my recipe for a
Sweet Potato Bread and Sausage stuffing
.
Cranberry Sauce
It is sad to admit it, but we are a house divided. I absolutely love Ocean Spray canned cranberry sauce. I know, it is basically jellied corn syrup, but it isn't Thanksgiving for me if I don't see a plate with of sliced canned cranberry sauce. Luckily, my husband has a more refined pallet when it comes to cranberry sauce. Unfortunately, almost every homemade cranberry sauce recipe I could find calls for a lot of extra sugar! Over the past few years, I've ended up doing a
very simple stove-top sauce
, that significantly cuts back on the sugar. It uses fresh oranges and maple syrup for a lovely natural sweetness.
It's all gravy, baby!
My husband is the master of Thanksgiving turkey, and the drippings in the bottom of the pan make the worlds best gravy. Since we roast our turkey in bacon and maple syrup (see below), the drippings are already richly flavored. Making the gravy becomes an easy task at this point. Once the turkey is done and on the carving block, we take the roasting pan and place it over two burners at medium-high heat. We use a wooden spoon to scrape the bottom of the pan, and loosen all the flavorful bits. Then we whisk in 1/4 cup of
Ottos Natural Cassava flour
until the gravy has thickened. Sometimes, we may need to add in a bit more flour, or a bit of chicken broth to get the gravy to the thickness and quantity we like. Once the gravy is done, strain it into a gravy bowl, and serve hot.
Let's talk turkey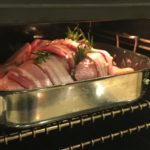 As I said above, my husband is the turkey master. I'm not just being a supportive wife here, I really mean it. Over the years, he has tried several recipes for our Thanksgiving bird, and has come up with the perfect method. One year, he made two turkeys: a brined one, and a maple bacon roasted one. They were both AMAZING! If we ever have a need for two turkeys again, I'm sure we will do a brined bird. For now, we really only need one 8-10lb turkey for our dinner, so we stick to his maple bacon recipe. If you want to try
my husband's turkey recipe
, I'll be posting it soon.
Sweet Dreams
Tryptophan gets a bad rap for our post dinner malaise on Thanksgiving; but really, we all just go into a food coma. By this point in the meal, I'm normally forcing myself to consider pumpkin pie. On principle, I won't have a holiday that doesn't end with dessert. Luckily, since lightening up the rest of the menu, having a nice small treat at the end of the meal is no longer a chore, but actually enjoyable. I will be honest, I haven't yet found a good paleo recipe for pumpkin pie. Maybe by next year I'll have a recipe to share for the perfect sweet ending to this holiday. For now, I still indulge in ordering in my favorite gluten free, dairy free pumpkin cheesecake from
By the Way Bakery
.
Giving Thanks
Whatever your family traditions are, I wish you a warm and happy holiday. At this time of year I am especially thankful for all that life has given me. Particularly, the ability to put food on the table, and the privilege to have the means to make such a decadent meal. The abundance of the Thanksgiving table can make it easy to forget that 1 in 6 children in the United States go to bed hungry. If you can, I encourage you to
donate to No Kid Hungry
, and help battle childhood hunger this holiday season.